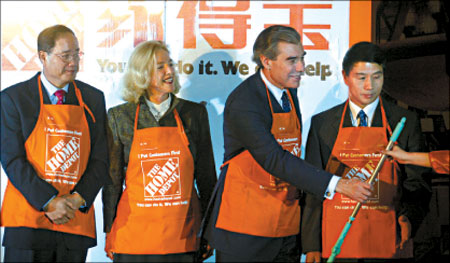 China's Vice-Minister of Commerce Yi Xiaozhun (1st from right) and US Commerce Secretary Carlos Gutierrez (2nd from right) at the Home Depot, Home Way deal signing ceremony in Beijing December 13, 2006. [China Daily]



US companies yesterday signed major deals with Chinese firms ahead of a high-level Sino-US strategic economic dialogue that starts today in Beijing.

The agreements, ranging from high-tech products to retail, are expected to boost US exports to China, which grew 23 per cent year-on-year in the first 11 months.

The deals were signed at a ceremony attended by US Commerce Secretary Carlos Gutierrez. They include:

US retailer Home Depot Inc will buy a chain of 12 Chinese home- improvement stores. The value of Atlanta-based company's purchase of The Home Way was not announced, but earlier reports put it at US$100 million.

GE Aviation will provide engines and maintenance services worth US$550 million to Shanghai Airlines.

The engines are for nine Boeing 787 Dreamliner aircraft ordered by the airline. The engines are valued at US$300 million and the additional follow-on service contract is worth US$250 million.

Oshkosh Truck Corp will sell US-made airport rescue and firefighting equipment to Quzhou Airport in East China's Zhejiang Province.

"This is an important business opportunity for Oshkosh as we work to expand our presence, service and sales in the China market for airport and municipal apparatus," said Michael Crowe, Oshkosh president of Asia Operations.

VeriSign and China Netcom Group and the Ministry of Information and Industry will set up a system to help create domain names.

The system is expected to help improve response time and reliability for Internet users in China.

"Commercial engagement built on fair, effective rules is the foundation of the healthy, strong and continually growing trade relationship that we envision between China and the United States," Gutierrez said.

Yi Xiaozhun, vice-minister of commerce, said: "The scope of Sino-US economic exchanges has expanded to every sector of the economy from only trade."

For the United States, he added, China has become one of the fastest-growing export destinations and one of the largest destinations of foreign investment.

Gutierrez said he hoped that more US products will "soon be recognized" in China; and pushed Beijing to do more in economic reforms and protection of intellectual property rights.

"Our economic relationship will be strengthened by market forces that foster competition and adherence to the rule of law," he said.

The signings were built upon last month's trade mission that Gutierrez led to China with 25 US companies to explore commercial opportunities. Three of the four US companies that signed agreements yesterday Home Depot, Oshkosh Truck Corporation and VeriSign were participants.

Gutierrez is one of the members of a high-powered delegation led by US Treasury Secretary Henry Paulson for a two-day strategic economic dialogue beginning today with high-profile Chinese officials.

In addition to Paulson, the team comprises six members of cabinet rank including Gutierrez and the Federal Reserve Chairman. They are expected to discuss the bilateral trade imbalance, the renminbi exchange rate, intellectual property rights protection and restrictions on US exports to China.