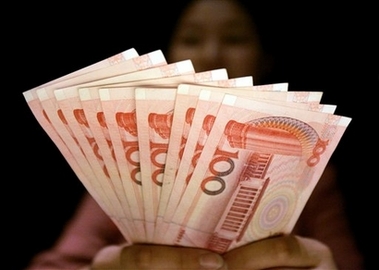 A clerk at an foreign currency exchange desk at a hotel shows Chinese yuan banknotes in this July 22, 2005, file photo taken in Shanghai, China. [AFP]


China's 2006 Central Economic Work Conference closed in Beijing Thursday, hammering out major economic strategies and policies for 2007.


Related Readings:


RMB value hits new high since reform


Appreciation of RMB a double-edged sword


Economist hints at further appreciation of yuan in 2007


RMB breaks 7.83 mark against U.S. dollar


One-yuan air ticket to hit market


HK benefits from rising yuan


Inter-bank bond issuance surges 49.2 pct


Stronger yuan gets tourists packing for HK


Secret Love in Peach Blossom Land comes


Paulson: US needs yuan flexibility

President Hu Jintao and Premier Wen Jiabao delivered speeches at the three-day conference.

Policy makers will work to engineer stable yet rapid economic growth in 2007 by improving their ability to steer the economy.

Economist Zheng Xinli said China's leaders have fixed a target for economic growth in 2007 of around 8 percent as part of plans made during the annual conference, a report on Wednesday quoted Zheng saying.

The goal -- compared with 10.7 percent annual growth in the first nine months of this year -- did not forebode a serious slowdown next year.

"The central government set the target of around 8 percent because it cannot set a very high target. If the target were 10, then the actual growth could be 12 percent," Zheng, who attended the conference, told reporters.

In a document summing up the conclusions of the Central Economic Work Conference held from Dec. 5-7, the Chinese government said it would aim to maintain stable yet rapid economic growth, avoiding any big swings in the economy.

The statement was issued by state radio and television, as well as by the official Xinhua news agency.

"The primary task for the coming year is to enhance and improve macroeconomic controls to maintain and expand the momentum of economic growth," the statement said.

It did not list any specific growth targets for the coming year.

It added that promoting greater balance in the country's international payments would be an important part of its efforts to ensure stable growth, which should also focus on promoting consumption to reduce the economy's reliance on investment.

The central bank also weighed in with its priorities, saying on its Web site (www.pbc.gov.cn) that it would further improve the yuan's exchange rate mechanism in 2007, while also ensuring that monetary policy remained stable.

"We will further improve the yuan exchange rate formation mechanism, enhance and improve foreign exchange management, and promote basic balance in international payments," the People's Bank of China said in a statement.

The central bank added that it would fine-tune its monetary policy measures to help keep money supply growth at a reasonable pace, and to contribute to "good and rapid" growth in the economy. It would also take steps to promote financial reform and innovation, it said without giving further details.