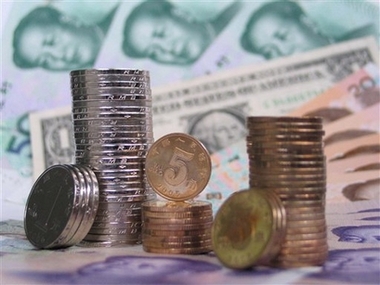 Coins and banknotes of the Chinese yuan are set up together with a US dollar during a photo illustration opportunity taken in Fuyang, central China's Anhui province, Monday, Nov. 27, 2006. China's currency rose to a fresh high against the US dollar Monday as the central bank set its rate at 7.8402 yuan per dollar, the highest level since the current exchange system was set up in July 2005. [AP]


BEIJING -- A senior economist has hinted that the Chinese government will allow the yuan to appreciate further in 2007.

Li Yang, director of the Institute of Finance and Banking of the Chinese Academy of Social Sciences, told Xinhua that China would adopt a neutral monetary policy and allow the exchange rate of the yuan to fluctuate within a wider band.

"The likelihood of China continuing its tight monetary policy will diminish greatly," he said.

Li also said economic growth would decline slightly. A report recently released by the academy showed the growth rate would drop to 10.1 percent in 2007. Official statistics show China's economic growth rate declined to 10.4 percent in the third quarter from 11.3 percent in the second quarter.

The economist said the foreign reserves management system might be subject to reforms, which would have a significant impact on the national economy and the country's financial markets.

"The current monetary policy can only alleviate but can not solve the root problem of liquidity." he said. "If the government functions are not reformed, the liquidity surplus will inevitably increase."

He noted that the central government was mulling over a real estate macro control system, which would take into account regional differences, to slow the price rises of commercial houses.