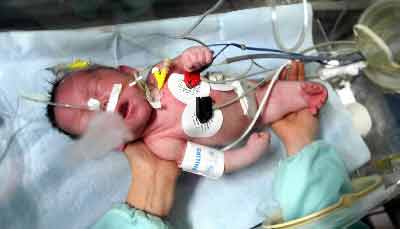 An infant with the rare "mermaid syndrome," a defect in which the legs are born fused together, recieves treatment in the intensive care department of the Hunan Provincial Children's Hospital of Hunan Province in the capital city of Changsha Wednesday, November 22, 2006. [Sanxiang City Express]


CHANGSHA-- The condition of China's first "mermaid syndrome" baby is deteriorating, with doctors saying it is almost impossible to separate the baby's legs surgically.
Related Readings:


"Mermaid" boy in better shape


Doctors try to save 'mermaid' baby


Doctors work to save rare 'mermaid' baby


Peru doctors separate 'Mermaid' baby legs


'Mermaid' baby turns 1, awaits surgery


Hard life of Guangzhou mermaid


Poland city wants bigger bust for Mermaid


Copenhagen's mermaid statue vandalized

Doctors at Hunan Provincial Children's Hospital are keeping the baby alive via hematodialysis instead of through peritoneal dialysis after he developed a peritoneal infection.

"It is already a miracle that the boy is still alive," said Li Bixiang, a doctor at the hospital. "The priority now is to keep the boy alive, not separate his legs."

The doctor said the health condition of the boy was "very bad".

Some media previously reported that the baby would survive if he had a kidney transplant, but Li said the situation was not that optimistic.

The baby, 21 centimeters long and weighing 2.45 kg, was found in front of the hospital gate, apparently abandoned by its parents, and admitted to the hospital on November 12. A note found inside the baby's clothes said only that the baby was born on November 9.

The baby's legs are joined together from thigh to heel. He is also suffering from severe internal defects - he has no kidney or urinary tract, his heart does not function properly, his anus and genitals are underdeveloped, his alimentary tract is deformed and his intestines are obstructed.