Peru doctors separate 'Mermaid' baby legs
(Agencies)
Updated: 2005-06-01 21:05
LIMA, Peru - Doctors fully separated the fused legs of a baby girl known as Peru's "mermaid" early Wednesday, calling the delicate procedure a "true success."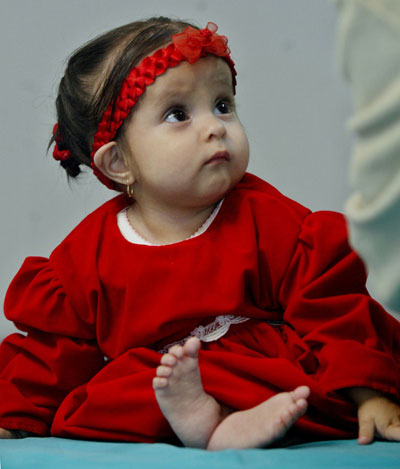 Peruvian one-year-old baby Milagros Cerron is seen at a hospital in Lima May 30, 2005. Milagros, who has been dubbed the "Little Mermaid" because of a rare birth defect in which her legs are joined together, will be operated on to separate her legs on Tuesday. [Reuters]


Doctors performing the 4 1/2 hour surgery had planned to begin repairing the birth defect only up to the child's knees, but the procedure exceeded the expectations of the medical team.

"This is the final result that we have come to in this extraordinary surgical intervention," said Dr. Luis Rubio, holding up 13-month-old Milagros Cerron's legs in a V-shape, displaying the line of stitches extending up from her heels to her inner thighs. "We have mobility of the independent knee joints."

Milagros' legs had been fused together from her thighs to her ankles when she was born.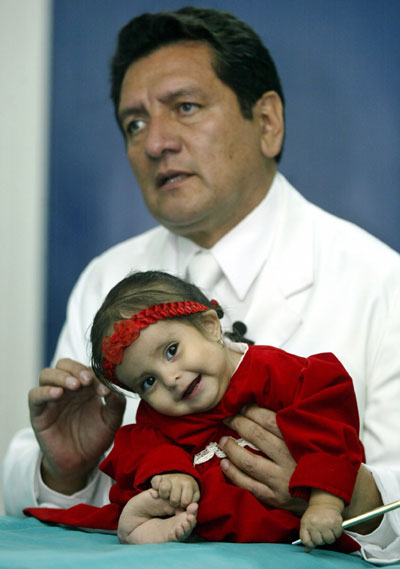 Doctor Luis Rubio (back) speaks to media as he holds one-year-old Peruvian baby Milagros Cerron at a hospital in Lima May 30, 2005. The baby, dubbed the "Little Mermaid" because of a rare birth defect in which her legs are joined together, will be operated on to separate her legs on Tuesday. [Reuters]


"This surgical intervention has been a true success," Rubio said.

Hours before the surgery, Milagros, whose name means "miracles," giggled and played on her hospital bed while Rubio, leader of a team of 11 surgeons performing the operation, looked on.

Milagros was born with a rare congenital defect known as sirenomelia, or "mermaid syndrome," which occurs in one out of every 70,000 births.

There are only three known cases of children with the affliction alive in the world today, according to Rubio.

The surgery was televised live and was watched by the child's parents.

Milagros' father, Ricardo Cerron, 24, broke into tears as Rubio made the first incision at the start of the surgery late Tuesday. The baby's mother, Sara Arauco, 20, put her hand to her mouth. A nurse standing behind her chair put her hands on Arauco's shoulders.

But later, as the surgery progressed, Arauco said her prayers had been answered.

"Yes, this is a miracle," she told The Associated Press. "I know, even though I am a sinner, God has paid attention to me, maybe not for my sake, but for my daughter's."

Asked about the difficulty of watching the graphic images on the screen above her, she said, "I am strong. I am young."

The first sign that the operation was going well came 30 minutes into the surgery, when Rubio announced, "We have overcome the first difficulty."

He was referring to a major artery that connected both legs. "We are cutting and the irrigation is perfect on both sides." He made his remarks live on national television from the operating room.

How to divide the crossover artery had been the greatest challenge going into the operating room, Rubio said earlier. Preliminary studies indicating it would not be necessary to perform a bypass of the artery appeared to have panned out.

The 11 doctors who performed the operation included plastic surgeons, pediatricians and heart specialists. Rubio said the medical team operated at night because the doctors wanted to perform surgery when the Solidarity Hospital, a public facility that serves 1,500 people daily, would be at its quietest.

The objective was to separate the child's legs from the heels up to the knees. But Rubio told reporters afterward that the doctors were able to "exceed" that goal. Milagros was stable, he said, adding that a midday press conference would be given to provide more details.

Milagros weighs 14.75 pounds and measures 25 inches long, about the size and weight of a normal 6-month-old.

Rubio said Milagros had suffered frequent urinary infections because her urinary tract, anus and genitals end in the same opening, almost like a "sewer."

But her intellectual development has been remarkable, he said, as Milagros smiled, trying to grab a laser light Rubio used to show how her legs were connected by the same sheath of skin.

"She has extraordinary psycho-mental development. She communicates well with her surroundings. She babbles words that correspond to her age," he said, picking up Milagros and holding her over his head as she giggled.

In the last three months, doctors inserted silicone bags filled with saline solution to stretch the skin so it would be able to cover her legs once they are cut apart.

Milagros has a deformed left kidney and a very small right one located very low in her body.

Rubio said Milagros would need up to 15 years of corrective surgeries to reconstruct and repair her sexual, digestive and other internal organs.

| | |
| --- | --- |
| | |
| Miss Canada Natalie Glebova wins Miss Universe title | |

| | |
| --- | --- |
| | |
| Britney, Kevin need viewers | |

| | |
| --- | --- |
| | |
| Taiwan talk-show hostess Small S to be engaged | |
Today's Top News
Top Life News

Government reveals plan to combat AIDS




Taipei urged to talk on mainland gifts




22 die in Hunan mountain torrents




GM to build $387m engine plant in China




Badawi raps US-Japan view of China as threat




Dutch voters reject EU constitution