Poor rural elderly deserve attention
(Xinhua)
Updated: 2006-12-03 10:52
Those surveyed reported an average annual income of 650 yuan (US$82). Eighty-five percent of them still toiled in the fields and 97 percent managed household chores.

Zhai spent 100,000 yuan (US$12,500) to finance the survey, which was conducted by seven retired people from Heilongjiang's provincial capital Harbin. "I'm from the countryside myself. It's painful to see some peasants suffer poverty and loneliness after decades of hard work."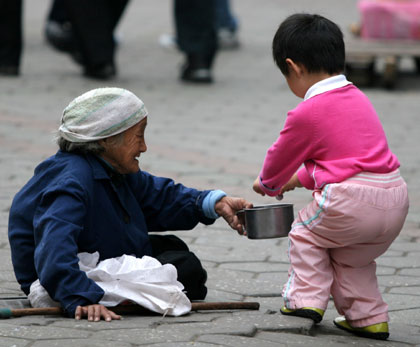 A child gives some coins to an elder woman begging in a street in Nanjing, East China's Jiangsu Province in this undated file photo.


At least half of the young farmers they surveyed were apathetic to their parents, said Zhai.

"I know a man in his 90s. His six children collectively give him 30 to 50 yuan a month, but no one offers to accept him in their home. No one would be there to help him if he had an accident or fell ill," Zhai said.

In the national capital Beijing, more than 2,000 rural parents sued their children for support last year, according to the city's Intermediate People's Court.

But the majority of farmers avoid taking their unfilial sons and daughters to court fearing a loss of face.

FILIAL PIETY CRUCIAL TO SOCIAL HARMONY

Though he proposed to the provincial legislature that local governments and NGOs should raise more funds to build senior citizens' centers and offer better pension schemes to farmers, Zhai said he personally believes the best place for a retired life is at home, while children should be caring for the elderly.

"As a developing country, China cannot yet sponsor pension schemes for all the rural poor. Besides, Chinese traditionally value family life and elderly people tend to feel abandoned when they have to move out," he said.

This calls for a revival of traditional values such as filial piety and respect for the elderly, which are essential in China's building of a harmonious society, he said. "It's a shame that the younger generation of Chinese tend to dote on their children, but neglect their parents."

In his proposal to the provincial congress in March, Zhai proposed amendments to China's criminal law and law on senior citizens' rights, suggesting harsher penalties for those who physically or mentally abused elderly people.

Though the legislator saw no immediate results from his proposals, he's happy to see some clear gestures to remedy the situation.

In several Chinese cities, officials have to prove they are model sons and daughters to have any chance of promotion.

The city government of Jinchang, northwest China's Gansu Province, interviews the family, friends and neighbors of officials up for promotion to test their respect for parents.

The same requirement is applicable in Hejin city in Shanxi Province and Daming county in Hebei Province.

Chinese schools are also embracing a revival of traditional values. Preschoolers are taught to chant old-time classics on virtue, including respect for teachers and parents, care for youngsters and dos and don'ts on different social occasions. Several universities and colleges have listed traditional Chinese culture as a mandatory course for students who are increasingly enamoured with what they perceive as a Western lifestyle.

Insiders say the State Administration of Radio, Film and Television will encourage domestic producers to highlight filial piety in films and television dramas by subsidizing 300,000 to 800,000 yuan (US$37,500 to 100,000) each.


| | | |
| --- | --- | --- |
| | 1 | 2 |
Most Commented/Read Stories in 48 Hours