Poor rural elderly deserve attention
(Xinhua)
Updated: 2006-12-03 10:52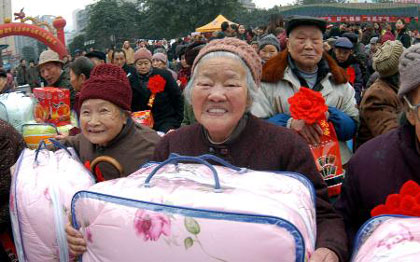 About 1,000 poor elderly in Chongqing receive quilts and allowances in this January 21, 2005 file photo for the traditional Spring Festival. [Xinhua]



A 71-year-old vagrant who sought to spend his remaining years in prison has aroused widespread concern over the well-being of China's 120 million elderly people, particularly the 90 million in rural areas who often fall through the welfare safety net.

With no home and no money, Li Zhaokun decided prison was the best place for him. On November 9, he deliberately started a fire in a mountain forest in Zhongshan, a manufacturing center in the southern province of Guangdong.

Investigators found Li had finished a five-year term on charges of arson only a week before, but he said he wanted to return to prison, which promised food, shelter and an end to his lifelong vagrancy.

He never had a document to prove his identity or residence and didn't even know where he was from. He remembered begging with his parents as a child, and they both died before he was 10.

As a young man he eked out a living by begging, collecting junk and doing hard physical work. His subsistence became a problem in 2001, when his life savings of 50,000 yuan (US$6,250) were exhausted.

He attempted suicide twice, but each time was saved and institutionalized for short periods. "They would let me go and tell me to seek help from the local government in my hometown. I don't know where I'm from. Even if I did, no one would recognize me there and I don't have an ID."

An official at Guangzhou's civil affairs bureau said, "He needs to find out where he's from. The local government in his hometown should take care of his needs and probably send him to a senior citizens center."

Other cities were not likely to provide for him because "relief funds for the homeless came from local budgets and local taxpayers", the official said on condition of anonymity.

OLD CUSTOMS BREAKING DOWN

If being homeless is the ultimate cause of Li's agony, thousands of other elderly people suffer just as much even though they have a homeplace.

Vagrants of Li's age are often seen begging at railway stations and tourist destinations in big cities. Most are unattended by their children.

At least 90 percent of China's 900 million rural population fall through the welfare safety net and have no adequate pension or medical care, which is largely available for the city people, said Professor Yuan Xin, a sociologist with the Tianjin-based Nankai University.

The situation is getting worse as the number of rural residents aged over 60 is increasing by 850,000 annually and is expected to hit 120 million in 20 years, he said.

Chinese farmers traditionally rely on their children for support in old age. Nearly 94 percent of them still do, but old customs like the obligation to venerate and care for the elderly are breaking down.

As millions of young farmers joined the mass migration to the urbanized east in the past decade, old people were left behind -- many with little financial support but grandchildren to feed, a farmer-turned legislator in northeast China's Heilongjiang Province found.

Zhai Yuhe, a deputy to the provincial people's congress and owner of a private coal company, personally financed a study of the situation of the elderly in the countryside at the end of last year.

The results of the two-month survey, which covered 10,400 peasants over 60 in 31 provinces, showed 45 percent were not living with their children and five percent did not know where their next meal would come from; 69 percent had just one set of clothes and 67 percent couldn't afford medicine.



| | | |
| --- | --- | --- |
| 1 | 2 | |
Most Commented/Read Stories in 48 Hours