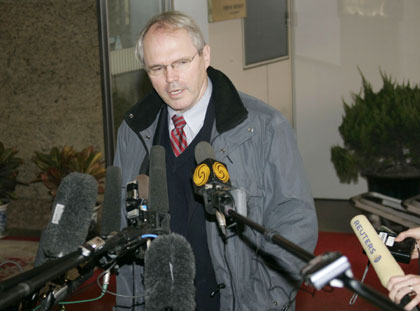 US Assistant Secretary of State Christopher Hill speaks as he leaves from Beijing airport November 21, 2006. [Reuters]



Six-Party Talks on the Korean Peninsula nuclear issue could resume next month, the top US negotiator to the disarmament negotiations said Tuesday.

"I believe we will have Six-Party Talks probably by the middle of December. What is important for us is that they be well planned and that's why I came," US Assistant Secretary of State Christopher Hill said at the airport after he wound up his one-day visit to Beijing.

He met Vice-Foreign Minister Wu Dawei, also head of China's delegation to talks, on Monday evening and the two agreed to work together to restart negotiations.

Hill visited Beijing three weeks ago to meet his Chinese and Democratic People's Republic of Korea (DPRK) counterparts. The three sides agreed to discuss and resolve the issue of Washington's financial sanctions against Pyongyang through negotiations within the framework of the Six-Party Talks.

Foreign Ministry spokeswoman Jiang Yu, at yesterday's regular news briefing, denied reports that Beijing had unfrozen the DPRK's accounts in Macao-based Banco Delta Asia, saying the central government supports the special administrative region's handling of the issue.

The accounts were frozen after Washington accused Pyongyang of money laundering and counterfeiting.

The financial sanctions were imposed by Macao, not Beijing, Jiang said. "We support the Macao government in handling this according to the law."

Macao's monetary authority yesterday also denied reports of lifting curbs on the accounts.

Jiang reiterated China's position that the bank dispute should not impede the resumption of the Six-Party Talks. "We hope all sides will be able to proceed in the overall interest of the Six-Party Talks, and seek an appropriate resolution as soon as possible."