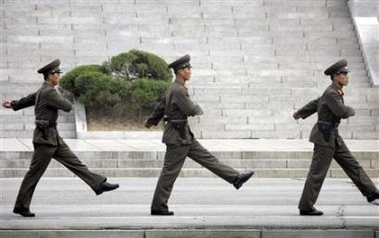 North Korean soldiers patrol the demilitarized zone which separates the two Koreas, November 1, 2006. [Reuters]



China hopes the Six-Party Talks on the Korean Peninsula nuclear issue will be held soon, the Foreign Ministry said Thursday.

"It is our belief that it would be better to hold the meeting as early as possible," spokesman Liu Jianchao said at a regular news briefing, referring to the six-nation talks.

On Tuesday's informal meeting in Beijing between chief delegates to the Six-Party Talks from China, the Democratic People's Republic of Korea (DPRK) and the United States, which led to the announcement of talks resumption, Liu said: "We appreciate and welcome the positive attitude and flexibility they had shown."

The meeting ended with an agreement to "restart the talks in the near future, at a time convenient to the six parties."

The Six-Party Talks aimed at making the Korean Peninsula nuclear-free also involve the Republic of Korea (ROK), Russia and Japan. The last round of the talks was suspended in November last year when the DPRK refused to return to the negotiation table citing financial sanctions imposed by the US against it.

On Wednesday, Pyongyang said it decided to return to the talks "on the premise that the issue of lifting financial sanctions will be discussed and settled between the DPRK and the US within the framework of the Six-Party Talks."

US Ambassador to the ROK Alexander Vershbow said in Seoul yesterday that Washington has agreed to form a working group on the financial sanctions issue.

Speaking of United Nations sanctions against the DPRK for its nuclear test on October 9, Liu said the resolution represented the consensus of the international community. "Every country has the obligation to strictly and faithfully fulfil the resolution. China is no exception," Liu said.

On Japanese news reports that Prime Minister Shinzo Abe was considering establishing a free trade area (FTA) with China, Liu said China is willing to discuss the issue with Tokyo.

He said free trade would be conducive to the long-term stable development of Sino-Japanese economic and trade relations, and were in the interests of both countries.