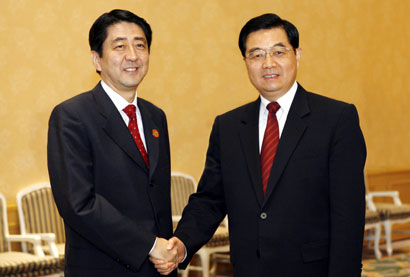 Chinese President Hu Jintao (R) shakes hands with Japanese PM Shinzo Abe in Hanoi, Viet Nam on November 18, 2006. [Xinhua]



HANOI: China and Japan agreed to expand bilateral relations by maintaining high-level contacts and increasing co-operation in energy, economy and trade.

President Hu Jintao and Japanese Prime Minister Shinzo Abe reached the agreement on Saturday in a meeting on the sidelines of the 14th Economic Leaders' Meeting of the Asia-Pacific Economic Co-operation.

The meeting between Hu and Abe is their second since Abe took office in September. Abe visited Beijing in early October.

Hu said that the meeting reflects the "common will of the two countries to improve bilateral relations."

The two countries agreed to build a "strategic relationship of mutual interests" and foreign affairs departments will work on details of such a relationship.

Hu called for more cultural and youth exchanges to increase friendship between the two peoples so as to consolidate the foundation for bilateral ties.

The Chinese President advocated drafting medium and long-term plans for bilateral co-operation in sectors of trade, investment, information, energy, environmental protection and finance.

Abe suggested starting ministerial-level meetings for economic and trade co-operation as well as dialogue between energy departments of the two countries to increase partnership in energy conservation and environmental protection.

"President Hu adopted a very positive attitude towards Abe's proposal and believes it is very helpful," said Foreign Ministry spokesman Liu Jianchao after the meeting.

The two leaders also agreed to make joint efforts to promote peace, stability and development in Northeast Asia and increase co-ordination in pushing regional integration.

Hu cited history and Taiwan as "sensitive questions" concerning the political basis for bilateral ties and called for them to be "appropriate handled."

Abe noted that Japan will handle the question of Taiwan according to the joint statement of the two sides, adhering the one-China policy and opposing Taiwan "independence."

Both Hu and Abe expressed willingness to advance negotiations on the East China Sea and make it an area of "peace, friendship and co-operation."

The two sides have a long-running row over development of natural resources in a disputed area of the East China Sea. Hu said that they should use negotiations and talks, put aside disputes and seek common development.

During the meeting, Abe again extended an invitation for Hu to visit Japan next year. Hu accepted the invitation, according to spokesman Liu.