NEW YORK: Andy Warhol's iconic image of Mao Zedong, considered one of his most sensational pieces of the 1970s, is being offered for sale by the Swiss-based Daros Collection, owner of one of the greatest private holdings of Warhol paintings, Christie's auction house has announced.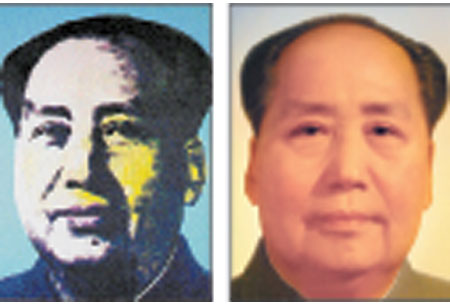 Andy Warhol's image of Mao Zedong and the official portrait of the former leader. [China Daily]

"This work has the most prestigious provenance, staggering wall-power and is literally an icon of the 20th century," said Brett Gorvy, the head of post-war and contemporary art at Christie's.

Based on China's official portrait, Warhol's silk-screen portrait measures 206 centimetres by 155 centimetres and shows Mao in a dark blue jacket against a light blue background.

It was set to be auctioned at Christie's Rockefeller Center galleries as part of its evening sale of post-war and contemporary art yesterday. It was expected to bring between US$8 million and US$12 million.

Warhol was not shy about cashing in on what he perceived to be the capitalist collector's fascination with China and its leader.

"Andy Warhol was in love with fame," said Gorvy. "At the moment in history, 1971-72, it was the reopening of China to the West. China was creating new relations with America. Nixon had gone over to China so Chairman Mao's image was everywhere and Warhol captured that. He understood ... that it was famous not just for that moment but famous forever."

The auction house said "Mao" constituted Warhol's first political portrait, successfully paving the way for a number of other political portraits and subjects including "Lenin" and "Hammer and Sickle."

"He chose Mao because he really was the most famous person in the world at that particular moment," said Gorvy. "He wanted to represent him as he was represented then all over China as this great icon."

The silk-screen image was derived from an official portrait of Mao on the cover of a book entitled "Quotations from Chairman Mao Tse-Tung."

It was one of a series of 10 large scale portraits Warhol made of Mao in 1972. Art experts consider "Mao" to be the best in the group.

Beside "Mao," the auction was to offer seven other Warhols from other private collections, including "Orange Marilyn" (1962), depicting Marilyn Monroe, with a presale estimate of US$10 million to US$15 million, and "Sixteen Jackies" (1964), portraying Jacqueline Kennedy, with an estimate of US$12 million to US$16 million.

In May, an early iconoclastic work by Warhol of a Campbell's soup can titled, "Small Torn Campbell's Soup Can (Pepper Pot)," sold for almost US$11.8 million at Christie's.