Mao portrait auction cancelled after criticism
(AP)
Updated: 2006-05-26 14:39
A portrait of China's founding father Chairman Mao won't be under the auctioneer's hammer after all.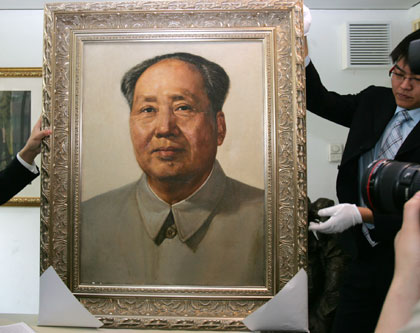 Workers display the portrait of Chairman Mao Zedong at an auction preview in Beijing May 17, 2006. [Xinhua]


Following a public outcry, an auction house on Friday called off the sale of a painting of Mao Zedong used as a model for portraits hung overlooking Beijing's Tiananmen Square in the 1950s and '60s.

The announcement of the planned June 3 sale set off a wave of criticism on Web sites who called it disrespectful to Chairman Mao.

The sale was canceled, Beijing Huachen Auctions said on its Web site. It said the foreign collector who owns the portrait was "discussing a donation with domestic museums."

The auction house said it expected the 91-by-68-centimeter (36-by-27-inch) painting to sell for 1-1.2 million yuan (US$120,000-US$150,000; euro100,000-euro120,000).

The picture, known as a "mother copy," was used by artists who painted Mao portraits hung on the Tiananmen Gate, which overlooks the square. The auction house said the original was never displayed on the gate, while copies that did have been lost.

Newly rich Chinese collectors pay high prices for such political memorabilia.