China is seeking to work closely with members of the Asia-Pacific Economic Co-operation (APEC) to push forward liberalization of trade and investment and tackle security concerns, according to officials and experts.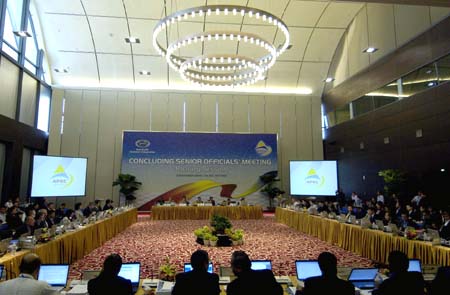 Delegates at the conclusion of the senior officials meeting of the Apec in Hanoi, Vietnam November 13, 2006. [Xinhua]


Leaders of the 21 economies of APEC members will gather in Hanoi, Viet Nam this weekend to discuss ways of reviving the stalled Doha round of World Trade Organization (WTO) talks.

Talks collapsed in July amid disagreements over subsidies and tariffs for agricultural goods.

President Hu Jintao will attend the forum along with US President George W. Bush, Russian President Vladimir Putin and Japanese Prime Minister Shinzo Abe.

Leaders are also expected to look for ways to combat pirated goods at the meeting, according to Vietnamese sources.

"APEC can lead the way for all members of the WTO to reignite negotiations and conclude the Doha Development Agenda next year," Le Cong Phung, deputy foreign minister of Viet Nam, was quoted as saying.

"If APEC can identify a way forward, this path will most likely be suitable to the broader WTO membership," he noted.

Ministry of Commerce spokesman Chong Quan said earlier that Beijing will continue to appeal for more economic openness and the facilitation of trade and investment.

APEC was established in 1989, and its members account for about 40 per cent of the world's population, 56 per cent of the world's gross domestic product (GDP) and approximately 48 per cent of world trade.

China, which hosted an APEC meeting in 2001 in Shanghai, has close economic and trade ties with APEC, according to Chong.

Its trade with APEC members reached US$960.7 billion last year, nearly 68 per cent of its total foreign trade, and nine of its top 10 overseas trading partners are from APEC.

Ministers will meet from November 15-16 in the Vietnamese capital to prepare for the leaders' meeting, which will be held on November 18 and 19.

The meeting is expected to draw about 10,000 people, including many international business leaders.

According to sources familiar with the forum, leaders will adopt a five-year "Hanoi action plan" outlining specific policies aimed at lifting trade barriers.

Security concerns

The nuclear issue in the Korean Peninsular will inevitably be a hot topic at the summit, said Liu Junhong, an international affairs expert with the China Institute of Contemporary International Relations.

The forum is the first time leaders of state from the United States, China, Japan, Russia and the Republic of Korea have gathered together since the Democratic People's Republic of Korea (DPRK) conducted a nuclear test early last month.

According to the Chinese Foreign Ministry, President Hu will meet with US President Bush and Japanese Prime Minister Abe on the sidelines of the meeting.

"Besides bilateral relations, the DPRK nuclear issue will be at the top of the agenda," Liu told China Daily.

APEC, which mainly handles problems concerning globalization and economic openness, started to touch on security issues following the September 11 terror attacks in 2001.

Many commitments of APEC are non-binding and few expect major policy announcements, according to Liu.

However, he said that the meeting serves as an important platform for top leaders to conduct strategic dialogue, which lays the groundwork for policies.