BEIJING -- Beijing police have rejected claims they are beating to death dogs rounded up under a "one dog" per household policy in the capital.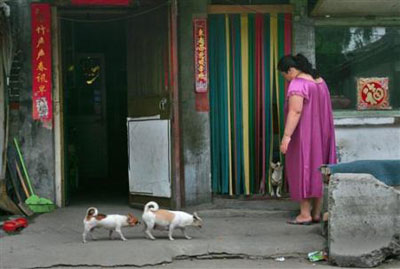 A dog attentively listens to his owner as other dogs make their way back home in a traditional Chinese style neighborhood in Beijing. [AP]


China's capital is also mulling over a scheme for digital-chip-based canine management, aimed at tightening control over its increasing dog population and stepping up the fight against rabies which claimed 326 lives nationwide in October.

Local government sources revealed Tuesday that a draft canine management system proposal has been worked out.

The scheme will soon be tested in Beijing's eight urban districts, namely Dongcheng, Xicheng, Chongwen, Xuanwu, Chaoyang, Haidian, Fengtai and Shijingshan, and suburban Shunyi District.

Beijing is planning to implant dogs with digital chips containing their individual ID number. To access information about the dog--photo, species, sex, color, inoculation time, owner's address-- you simply input the ID number into a device.

In a related development, local police in Beijing Tuesday refuted dog killing rumors spread by some netizens as totally untrue.

The city is to implement a "one dog per household" policy in nine major management zones -- the eight urban districts and Yizhuang Economic Development Zone.

Earlier reports said a campaign would begin on November16 to check that Beijing citizens in the nine zones have licenses for their dogs, do not have big or dangerous dogs and only have one dog per household. The campaign will also target illicit pet businesses in the city.

Last Wednesday afternoon, the police made house calls in the city's luxury villa areas. The sources said the house calls were mainly aimed at improving dog owners' awareness of canine regulations, public security issues and the legitimate rights of both dog owners and other citizens.

By Monday, the canine inspection department of the municipal bureau of public security had rounded up more than 500 stray, unlicensed and abandoned dogs.

Dog owners are required to hand over pets they want to abandon to local police. Citizens that meet certain conditions can adopt dogs by calling the canine inspection department. To qualify, citizens should hold a valid ID card and having a sufficiently spacious permanent residence outside the nine major management zones.

More than 110,000 people in Beijing received anti-rabies inoculations after being bitten or scratched by dogs or cats in the first nine months of this year.

The city has begun a two-month project to inoculate up to a million dogs in the city, where only 550,000 canines are currently registered.

The Ministry of Health website shows that 2,660 people died of rabies in China in 2004, compared with 159 reported fatalities in 1996.

In the first three quarters of this year, the country recorded 2,254 rabies cases, an increase of 29.69 percent over the same period last year.

Rabies accounted for 46 percent of all fatalities caused by infectious diseases reported on the Chinese mainland in October, according to the Ministry of Health.