It's the year of the dog in China, but it's not a good year for man's best friend: an effort to stamp out rabies has prompted authorities to limit families in Beijing to only one dog.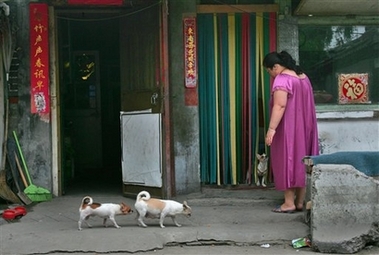 A dog attentively listens to his owner as other dogs make their way back home in a traditional Chinese style neighborhood in Beijing, China Thursday Aug. 3, 2006. According to authorities Beijing families will now be allowed only one dog. The restriction is part of efforts to stamp out rabies, state media said Wednesday, Nov. 8, 2006. [AP]


The directive, reported by state media on Wednesday, follows a campaign in which tens of thousands of dogs were killed to fight the disease.

Xinhua News Agency said Beijing was instituting a "one dog" policy for each household in nine areas.

"Only one pet dog is allowed per household in the zones, and dangerous and large dogs will be banned. Anyone keeping an unlicensed dog will face prosecution," Xinhua said.

Rabies is on the rise in China, where only 3 percent of dogs are vaccinated against the disease, which attacks the nervous system. The disease nearly always kills humans after the development of symptoms, though it can be warded off by a series of injections.

Rabies killed 318 people nationwide in September, according to Xinhua. There were 2,651 reported deaths from the disease in 2004, the last year for which data were available.

In Beijing, some 69,000 people sought treatment for rabies last year, according to state media.

The dog limit in the capital was announced by Beijing police and the city agencies for agriculture and commerce, Xinhua said.

It said abandoning dogs was an offense under the new regulations. "Owners who wish to dispose of their pets should hand them over to local dog control authorities," Xinhua said.

Dog owners also were forbidden from taking their dogs to public places like markets, shops, parks, exhibition halls, community gym zones, amusement parks, railway waiting rooms and sightseeing areas, Xinhua said.

A notice on the police department's Web site did not refer to a "one dog" policy but said a clampdown on stray and large dogs would be implemented.

The Humane Society of the United States said the Chinese policy fails to address the underlying reason for the country's rabies crisis.

"We believe it's a policy that is misplaced in that the focus should be on rabies vaccination rather than a limitation on the number of dogs in a household," said Wayne Pacelle, the organization's president and chief executive officer.

"One thing we have learned in the United States is that large-scale vaccination programs aimed at reducing and eradicating rabies programs do work in large nations," he said.

Pacelle noted that "one dog can contract rabies just as two dogs can contract rabies if there's no prevention. Again this is not an emerging disease ... It's one of the best-known zoonotic disease issues that exists. We have very constructive options in handling a legitimate problem."

Still, Ingrid Newkirk, president of People for the Ethical Treatment of Animals, said the policy might prevent people from acquiring more dogs than they can care for.

"China may be barking up the right tree," she said. "It's sad that it comes to this, but for the dog's sake, restricting people to one dog stops impulse acquisition, encourages better care and will reduce the numbers who are suffering on the streets."

However, Newkirk urged a "grandfather clause so that people who have more than one dearly loved dog don't now have to kill them."

Authorities prompted an outcry in July and August when they launched several mass slaughters of dogs.

In one county in the southwestern province of Yunnan, where three people had died of rabies, authorities killed 50,000 dogs, many of them beaten to death in front of their owners.