Police rebut rumors of dog slaughter
(Xinhua)
Updated: 2006-11-14 16:43
Beijing -- Police in the Chinese capital Tuesday refuted rumors spread by netizens that dogs had been slaughtered in the city.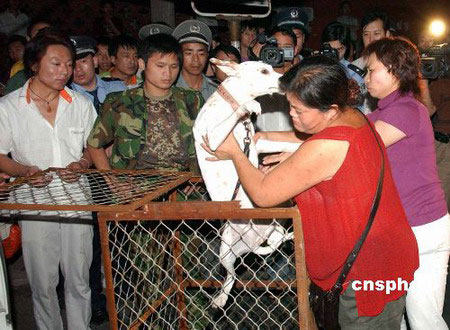 A dog is captured and caged during a drive to remove stray dogs from the Chinese capital's street in Beijing. All dogs found running wild in Beijing's streets without city-issued licenses will be caught and handed to public security offices for inoculation. [cnsphoto/file]



Beijing has tightened control over dog ownership in its ongoing campaign to fight rabies after the disease claimed 326 lives nationwide in October.

The city is implementing a "one dog per household" policy in nine major management zones.


The nine zones are Dongcheng, Xicheng, Chongwen, Xuanwu, Chaoyang, Haidian, Fengtai, Shijingshan and Yizhuang Economic Development Zone.

Earlier reports said a campaign would begin on November 16 to check that Beijing citizens in the nine zones have licenses for their dogs, do not have big and dangerous dogs or more than one dog per household. The campaign will also target illicit pet businesses in the city.

Last Wednesday afternoon, the police made house calls in the city's luxury villa areas. Sources said the house calls were mainly aimed at improving dog owners' awareness of regulations, public security issues and the legitimate rights of both dog owners and other citizens.

By Monday, the canine inspection section of the municipal bureau of public security had rounded up 500 stray, unlicensed or abandoned dogs.

Dog owners are required to hand over pets they want to abandon to local police. Citizens who meet certain conditions can adopt a dog by calling the canine inspection section. To qualify, citizens should hold a valid ID card and have a sufficiently spacious permanent residence outside the nine major management zones.

The Ministry of Health website shows that 2,660 people in China died of rabies in 2004, compared with 159 reported fatalities in 1996.

In the first three quarters of this year, the country recorded 2,254 rabies cases, an increase of 29.69 percent over the same period last year.


Most Commented/Read Stories in 48 Hours