Hong Kong -- International Business Machines will join a consortium led by Citigroup that is bidding US$3 billion for control of China's Guangdong Development Bank, a person familiar with the matter said on Monday.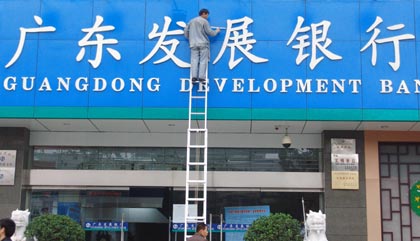 A worker cleans a board of a branch of the Guangdong Development Bank in Zhengzhou, central China's Henan Province, in this file photo taken on November 6, 2006. [Newsphoto/File]


IBM, the world's largest technology services company, would take a 5 percent stake in the southern China lender if the Citigroup bid is successful, the source said.

Citigroup and France's Societe Generale have been locked in a takeover battle that has been drawn out for more than a year, with sources saying that both sides are bidding about US$3 billion for 85 percent of GDB.

"It is IBM's practice not to comment on rumours or speculation," an IBM spokesman said in an email, while a Citigroup spokesman in Hong Kong declined to comment.

Top Citigroup executives including Chief Executive Charles Prince and former US Treasury Secretary Robert Rubin, now a member of Citigroup's office of the chairman, are in Hong Kong this week for meetings, sources said.

China Life Insurance Co., the country's top life insurer, is also a part of the Citigroup bid, according to sources.

Citigroup is seeking 20 percent of GDB, which is the maximum individual stake allowed by an overseas owner in a mainland bank under Chinese law, which also caps total foreign ownership in a domestic lender at 25 percent.

GDB is a top client for IBM, which supplies more than 80 percent of the lender's IT systems and devices, a technology industry source said on Monday.

Citigroup last year won preliminary approval to take a stake larger than 20 percent in GDB, but that potentially precedent-setting arrangement was later knocked down by regulators, re-opening the bidding with SocGen.

The drawn-out proceedings have been marked by recent media reports declaring Citigroup the winner, but SocGen has denied the stories and called for greater transparency in the decision.

Citigroup and SocGen are attracted to GDB's more than 500 branches, rather than the lender's weak financial shape.

Citigroup is also in talks to increase its stake in Shanghai Pudong Development Bank to 20 percent from less than 5 percent.

A similar stake in GDB would give the world's largest financial services group a footprint in two of China's richest regions.