China has approved a plan for a consortium led by US banking giant Citigroup to buy into Guangdong Development Bank, a bid that beat out one made by France's Societe Generale, an official said.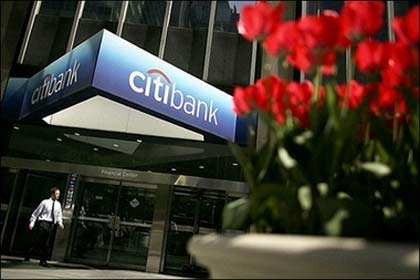 A pedestrian passes the Citibank building in New York City. [AFP]
Citigroup will take a 19.9 percent stake in the troubled Guangdong Development Bank, said a Guangdong bank official who insisted on anonymity.
No details on the price or the final composition of the investment group were immediately available.
The decision by the State Council appeared to end a year-and a-half battle for control of the south China lender.
The American and French-led consortiums, teamed up with Chinese mainland partners, had wanted to purchase at least 80 percent of the debt-laden Chinese bank.
Newspapers had reported that the Citigroup consortium -- which includes China Life Group, the nation's largest insurer, and State Grid Corp, the major electricity distributor -- offered around 3.0 billion dollars for an 85 percent stake in Guangdong Development Bank.
The Carlyle Group, a private Washington-based investment firm, pulled out of the bidding group, Chinese press reports said Tuesday.
The Guangdong bank official said that Citigroup had raised its price for the stake but refused to provide further details.
Citigroup officials declined to comment.
The offer from Societe Generale and its partners, including petroleum giant Sinopec and top steelmaker Shanghai Baosteel Group Corp, also amounted to about three billion dollars, including 600 to 650 million dollars from the French bank.
Societe Generale's chief of communications for the Asia-Pacific region, Laurent Tison, said the bank had not been advised of any decision, adding that he would be surprised if a final selection had been made at this stage.
Both groups had been counting on the government to make an exception in state-mandated stake restrictions that limit foreign consortium holdings to more than 25 percent of a local bank.
But in May the Chinese authorities insisted the two consortiums respect the current regulations.
A single foreign bank cannot hold more than a 20-percent stake in a Chinese bank.