The new chief of the World Health Organisation, Margaret Chan of China, pledged to put her nationality aside and to better watch out and curtail any outbreak of major threats such as bird flu.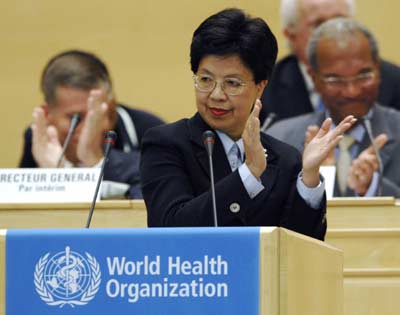 Newly elected World Health Organisation (WHO) Director-General Margaret Chan of China applauds during a special session of the World Health Assembly in Geneva November 9, 2006. Chan, the first Chinese national to head a major UN agency, was nominated on Wednesday by the WHO's executive board to succeed the late Lee Jong-wook as director-general.[Reuters]


"Now I'm elected as the WHO's Director General I no longer carry my nationality on my sleeve," she told reporters after her nomination was endorsed by more than two-thirds of the 193 member states.

It is the first time that a Chinese national has headed a United Nations agency. The former Hong Kong health chief insisted she had taken an oath to serve the world and signaled her determination to wipe out weak spots in global disease surveillance.

"I will speak up if some members states need to strengthen their effort and in this case if you are referring to China I will definitely speak out and urge China... to share information," Chan told journalists.

Her nomination had prompted calls for independence and transparency at the top of the global health agency, following concern about China's past secrecy in tackling infectious diseases.

"Being a Chinese national appointed by the WHO as Director General, of all people I hope I will have better access to various senior levels of the government and (tell) them what are issues of importance to the world," Chan explained.

Last week, a WHO official in China warned that the situation with bird flu there was "quite confusing" and tainted by "conflicting information".

"WHO strongly and passionately urges our member states to share information and share viruses," she said, insisting that flu samples had to be scrutinized by scientists to detect threatening mutations.

The Director General elect told WHO members that international surveillance against emerging infectious diseases like SARS or bird flu had to be backed up by efficient national measures and joint action.

"The global surveillance systems must have no gaps or weak spots," Chan warned.

Chan, 59, joined the WHO three years ago, rising to assistant director general in charge of communicable diseases.

When she was health chief in Hong Kong in 1997, her services were credited with successfully tackling a first known outbreak of the virulent H5N1 strain of avian influenza by ordering a swift and massive cull of chickens, despite strong opposition to the move.

"SARS was a very important lesson for many countries including China. China has moved on, the world has moved on, but... in the realm of disease surveillance, there are still weak spots," Chan said Thursday.

A senior official at the WHO said her appointment could reassure Beijing and encourage it to share medical samples and exchange information with other countries.

The new WHO chief is focusing on the health of Africans and of women as the core targets for her mandate from 2007 to 2012.