Margaret Chan confident on running for WHO chief
(Xinhua)
Updated: 2006-08-02 22:26
The candidate for Director-General of the World Health Organization (WHO), Margaret Chan, said Wednesday that she becomes more confident with the support from China's central government as well as the government of the Hong Kong Special Administrative Region (HKSAR).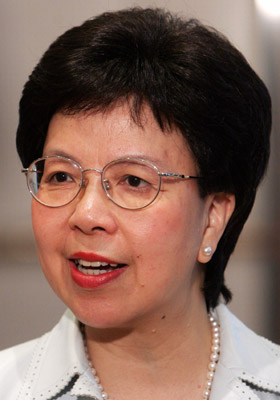 Former health director Margaret Chan Fung Fu-chun speaks during a news conference in Hong Kong August 2, 2006. China gave its backing for Chan to run for the top post at the World Health Organisation. [Reuters]

Chan, serving as World Health Organization Assistant Director-General for Communicable Diseases now, held a press conference Wednesday afternoon before departing for Geneva. She said she had met with HKSAR Chief Executive Donald Tsang, Hong Kong Secretary for Health, Welfare and Food York Chow and professional colleagues for their advice on the running period.

Chan said she felt actually a bit nervous on knowing she was backed by the central government as the candidate for the position of WHO Director-General. However, the central government's full support and close coordination from the government of HKSAR has heighten her confidence.

Chan stressed twice that she will do her utmost to live up to everyone's expectations.

Chan added that she would become "an international civil servant" if elected as the Director-General of WHO. "I have to demonstrate that I will be fair, open, transparent and deal with the issues on these merits."

China announced on July 25 that it would recommend Margaret Dr. Chan to run for WHO Director-General, a post that will be elected by the Executive Board of WHO in November.

In 1994, Dr. Chan was appointed as the first female Director of Health in Hong Kong and gained a wealth of experience in combating infectious diseases like avian influenza and severe acute respiratory syndrome (SARS).

In 2003, she joined WHO and worked as WHO's Director of the Department of Protection of the Human Environment. In June 2005, she was appointed as Director of Communicable Diseases Surveillance and Response as well as Representative of the Director-General for Pandemic Influenza.