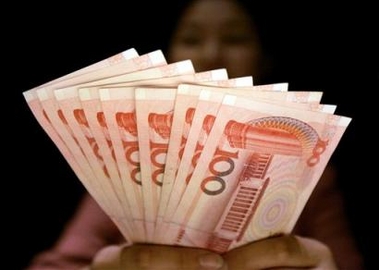 A clerk at an foreign currency exchange desk at a hotel shows Chinese yuan banknotes in Shanghai, China, in this July 22, 2005 file photo. [AP]



Beijing -- China's yuan rose to a new high against the US dollar on Thursday to its highest level since Beijing revalued the currency 16 months ago.

The yuan's appreciation, while still gradual, has been accelerating recently. Almost every week, it hits new highs against the dollar.



Thursday's rate of 7.8697 to dollar broke the high set Wednesday, when the yuan closed at 7.8661 on China's currency markets.

Since Beijing cut its direct link to the US currency on July 21, 2005, the yuan has gained about 3 percent.

But the United States and other trading partners are still pushing for a faster rise, saying a weak yuan is contributing to China's bulging trade surplus by making Chinese exports cheaper and more competitive.

The Chinese central bank allows the dollar-yuan rate to move no more than 0.3 percent in daily trading.

Market observers attribute the appreciation to the continuous slump of the US dollar, saying expectations for an interest rate drop in the United States pressed the yuan's value up.

Last month, the US Federal Reserve decided to keep the interest rate unchanged at 5.25 percent for the third time in a row since August.

Meanwhile, the anticipation that China's foreign exchange reserves will exceed US$1 trillion this month is considered another factor in the yuan's appreciation. A China Central Television report said the reserves had already surpassed the trillion dollar mark.

China's foreign exchange reserves had reached US$987.9 billion by the end of September, with a monthly average increase of US$18.7 billion for the first nine months.

The RMB was under heavy pressure to appreciate, but the currentfloating band of its exchange rate was wide enough, said Tang Xu, director general of the research department of China's central bank, at a recent seminar.