Opponents make frest bid to oust Chen
(Reuters)
Updated: 2006-11-06 13:53
Taipei - Taiwan "President" Chen Shui-bian's opponents criticized him on Monday of trying to buy time with his denial of corruption allegations, while opposition "lawmakers" made plans for another motion to oust him.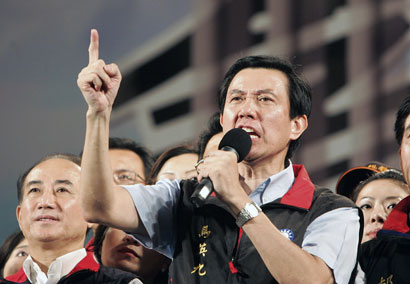 Ma Ying-jeou, chairman of the main opposition Nationalist Party (KMT), delivers a speech to supporters during a rally calling for Taiwan's "president" Chen Shui-bian to step down in Taipei November 5, 2006. [Reuters]




Prosecutors pitched Chen into the biggest political crisis of his six years in office last week, saying they had enough evidence to indict him -- though he could not be prosecuted while in office.

They also indicted Chen's wife for embezzlement and receipt forgery in a case involving misuse of T$14.8 million (US$448,000).

Brushing off Chen's denials of wrongdoing, an opposition leader said "legislators" would introduce a so-called "recall" motion to "parliament", the third in less than half a year, on Friday.

But the opposition parties, which have a slim majority in "parliament", would need at least 12 the ruling Democratic Progressive Party members to back the motion. Were it to pass, the motion would trigger a voter referendum on whether to get rid of Chen.

The ruling party's spokesman said there would be no dissent.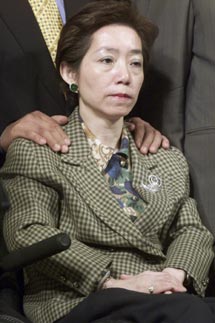 Wu Shu-chen, wife of Chen Shui-bian, looks on during a celebration in Taipei in March 18, 2000. Prosecutors intend to file corruption charges against Wu along with other officials in Chen Shui-bian's government, local media reported on Friday. [Reuters]


Nevertheless, political uncertainty weighed on Taiwan's markets on Monday. The main stock index was down 0.55 percent at 0300 GMT, while the Taiwan dollar weakened from a one-month high to T$32.987 against the US dollar.

Opposition party members said Chen's ouster was necessary because he had "cheated" the public and, in an address on Sunday night, had cast doubt on the legal system to handle questions about use of the "presidential office's state affairs budget".

"Of course, this recall motion is going to have new content," said Tsai Chin-long, a spokesman for the main opposition Nationalist Party, referring to the "state affairs budget". "Before there was no reliable evidence."

Chen promised during his address to resign if his wife, Wu Shu-chen, was found guilty. But opposition members believe that was a time-buying tactic -- one analyst said the courts could take more than a year to hear the case.

Some Taiwan newspapers accused Chen, who has weathered months of street protests, of lying about his role in the "state affairs budget" case.

Most Commented/Read Stories in 48 Hours