NANNING: Premier Wen Jiabao has promised China will push forward co-operation with its Southeast Asian neighbours.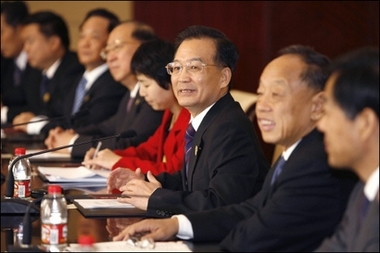 Chinese Premier Wen Jiabao (C) speaks to Philippine President Gloria Arroyo (not in picture) during their South East Asian Nations (ASEAN) bilateral meeting at the Liyuan Resort in Nanning, China's southern Guangxi province. Chinese and Southeast Asian leaders have vowed at a summit in Nanning to speed up creation of a free trade zone, while also discussing the North Korean nuclear crisis and regional political concerns.[AFP]


Wen made the pledge during one-on-one meetings with heads of five members of the Association of Southeast Asian Nations (ASEAN).

The meetings took place ahead of the formal opening of the Commemorative Summit marking 15 years of China-ASEAN ties in Nanning, capital of the Guangxi Zhuang Autonomous Region.

During talks with Philippines President Gloria Arroyo, whose country holds the ASEAN presidency, Wen said the countries need to push forward a number of key projects in agriculture, infrastructure construction and exploration of mineral resources.

Joint exploration

Wen said China, the Philippines and Viet Nam had worked out plans for more substantive development in the South China Sea region. He said there has been progress in joint marine resources exploration in the sea.

Arroyo thanked Wen for China's assistance in agriculture, railways, housing and disaster relief.

She said Manila would like to expand its fruit exports to China, and called on the two countries to establish a comprehensive economic partnership at an early date.

During talks with Singapore's Prime Minister Lee Hsien-loong, Wen said China is ready to push forward the relationship between the two countries in a sustainable, healthy and stable manner.

Lee said Singapore is willing to expand bilateral co-operation with China and participate actively in China's economic development.

Lee also hoped to increase co-operation on maritime security.

Energy was the main issue when Wen met Indonesian President Susilo Bambang Yudhoyono.

Before coming to Nanning, Susilo attended the second Sino-Indonesian energy forum in Shanghai, during which the two countries signed a memorandum of understanding on energy and mineral resources co-operation.

Wen said that China and Indonesia could expand the two-way trade in volume and scale while enhancing co-operation through construction of railways, bridges and dams in Indonesia. Susilo said he wished to see the bilateral two-way trade volume reach US$30 billion by 2010.

Gas deal

Co-operation between China and Malaysia showed tangible results, as Wen and Malaysian Prime Minister Abdullah Ahmad Badawi unveiled a liquefied natural gas (LNG) deal.

Under the agreement, the Malaysian state-owned oil firm Petronas will be able to enter into the China energy market by supplying Shanghai with up to 3.03 millions tons of liquefied natural gas (LNG) annually for 25 years.

Badawi said energy co-operation is the key component of co-operation between the two countries, and Malaysia is looking forward to signing similar deals in the future.

China and Cambodia will work to bring bilateral ties to a new level, Wen and Cambodian Prime Minister Hun Sen agreed during their meeting yesterday. Wen said China will encourage more Chinese enterprises to invest in Cambodia to help the country's sustainable development.