NANNING -- The third China-ASEAN Expo, an annual event aiming at boosting economic ties between China and ASEAN countries, opened Tuesday in Nanning, capital of south China 's Guangxi Zhuang Autonomous Region.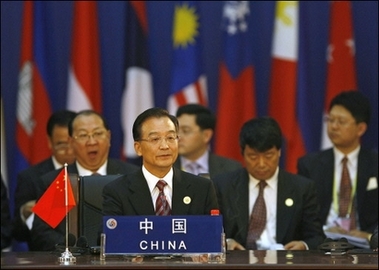 Chinese Premier Wen Jiabao speaks at the opening of the Southeast Asian Nations (ASEAN) summit at the Liyuan Resort in the southern Chinese city of Nanning, Guangxi region, southern China. Chinese and Southeast Asian leaders have vowed at a summit in Nanning to speed up creation of a free trade zone, while also discussing the North Korean nuclear crisis and regional political concerns. [AFP]

Chinese Premier Wen Jiabao and leaders from ten ASEAN ( Association of Southeast Asian Nations) countries attended the opening ceremony of the Expo.
Premier Wen said at the opening ceremony that the Expo demonstrates the common aspiration of China and ASEAN to grasp opportunities for cooperation, and serves as a platform to push forward the trade, investment and tourism cooperation.
He said China will continue to work with ASEAN to enhance regional development,.
The past 15 years have witnessed enhanced mutual trust and expanded economic and trade exchange between China and ASEAN, and China's rapid economic development will create more opportunities for bilateral cooperation, he said.
Gloria Macapagal Arroyo, president of the Philippines, said in her openning remarks that she took pride in ASEAN's role in helping China integrate its economy and become an economic powerhouse.
The ASEAN-China relations is at "golden age", and the ASEAN- China partnership is one of the most "dynamic and progressive" relations in east Asian region, she said.
ASEAN and China will continue to promote confidence-building measures, intensify interaction and steer the bilateral relations and cooperation for mutual benefit, she said .
Arroyo said trade of ASEAN countries is surging with China.
"The China-ASEAN Expo is a good example of what we should be doing," she said, believing trade with China will reduce ASEAN countries' dependence for export on western markets.
She said ASEAN countries expect to see more investment from China. "We are seeing more Chinese investment in ASEAN, and we hope to see more."
At the Expo, she said, the ASEAN businessmen are looking not only for products to bring home, but also for industries where Chinese and ASEAN manufacturers can collaborate to produce for ASEAN market and for the rest of the world.
The Expo is jointly sponsored by the Commerce Ministry of China, the trade and economic authorities of ten ASEAN members and the ASEAN Secretariat, with the participation of about 2,100 companies.
This is the first time for leaders of China and ten ASEAN member countries to meet in China. They attended a China-ASEAN commemorative summit Monday and signed a joint statement, cementing strategic partnership.