Chirac kicks off China visit
China, France urge EU to lift arms ban

Airbus has scored a Chinese order of 150 A320 aircraft and finalized an agreement to set up a plant in China as part of a deal bonanza unleashed by French President Jacques Chirac's visit to Beijing.
The Airbus A320 assembly plant, to be located in the north Chinese port city of Tianjin not far from Beijing, will complete its first aircraft in 2009 and will subsequently manufacture four a month, the aircraft maker said.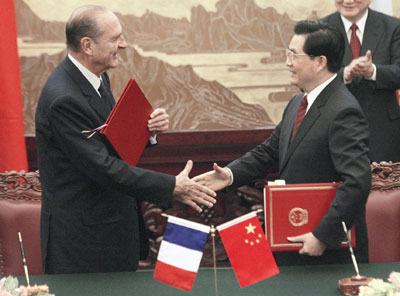 France's President Jacques Chirac shakes hands with China's President Hu Jintao (R) during a signing ceremony at the Great Hall of the People in Beijing October 26, 2006. [Reuters] [More photos on Chirac visit]


"It's a means for us to develop a long-term vision with the Chinese," said Louis Gallois, the chief executive of the European aerospace giant.

"It's clear that building the planes in China will give the Chinese an incentive to buy more of our aircraft," he said.

The order of 150 A320s, one of 14 deals signed between France and China in Beijing, would likely be a multi-billion-dollar deal for the European aerospace giant.

The deal also included an option for China to buy an additional 20 of the European aircraft maker's new wide-body A350 planes.

It follows China's order last year of 150 Airbus planes with a list price of nearly US$10 billion, which was signed when Chinese Premier Wen Jiabao visited France.

Airbus will hold a 51 percent stake in the planned facility in Tianjin, according to sources close to the negotiations between Airbus and China.

In June, China's National Development and Reform Commission, the national planning agency, approved the plans for Tianjin, calling the move an important step for the nation's aviation industry.

The A320, a medium-range, single-aisle twin-engine jet capable of carrying up to about 180 passengers, remains the European company's most popular aircraft after 17 years on the market. It is in direct competition with Boeing's 737 model.

Airbus is seeking to undercut US rival Boeing's dominance of the lucrative Chinese civil aviation sector and says it is aiming for a 50 percent market share.

Airbus has previously published estimates that potential sales among all airlines in China over the next 20 years total some 1,600 planes.

Airbus is 80 percent-owned by the European Aeronautic Defence and Space Company (EADS) and 20 percent-owned by BAE Systems of Britain.

In another deal signed Thursday, Alstom SA of France inked a contract worth 1.2 billion euros (US$1.5 billion) for the delivery of 500 freight locomotives to China, according to the agreement.

Alstom will link up with China's Datong Electric Locomotive to deliver the trains, with Alstom's share of the contract coming to 300 million euros (US$380 million), the agreement said.

Alstom will be in charge of designing the locomotives, described by Alstom Chief Executive Patrick Kron as "the most powerful in the world."

The first 110 of the locomotives will be produced at Alstom's plant in Belfort, France, before production moves to facilities in north China operated by Datong Electronic Locomotives.