French President Jacques Chirac arrived in Beijing Wednesday on a four-day state visit to China a country he says will affect the future of the world. [Chirac dines on La Cuisine Chinoise, savours favourite dishes of emperors]
Analysts said that Chirac could use the visit, widely believed to be perhaps his last trip to China as president, to boost France's role and seek business benefits for French companies. Chirac, 73, will end his second term in office next year. [Busy Schedule]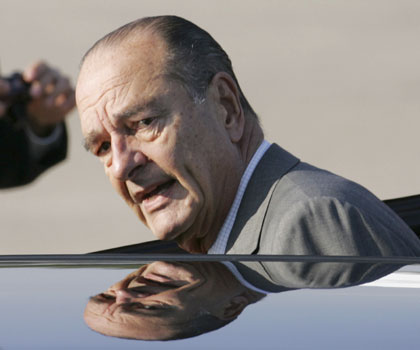 France's President Jacques Chirac enters a car after arriving at Beijing airport October 25, 2006. French President Chirac leads an elite business contingent to China on Wednesday, hoping to seize a greater share of the world's fourth largest economy on a 4-day state visit. [Reuters] [More Photos on Chirac visit]




Today, he is scheduled to meet top Chinese leaders, including President Hu Jintao, top legislator Wu Bangguo and Premier Wen Jiabao.

In the political arena, issues such as the nuclear test conducted this month by the Democratic People's Republic of Korea as well as the Iran nuclear issue will definitely be on the agenda of the summit between Hu and Chirac, Wang Chaohui, a researcher at the European Studies Institute affiliated to the China Institutes of Contemporary International Relations, told China Daily yesterday.

The two sides are also expected to talk about the lifting of an EU arms embargo on China, trade disputes as well as China's presence in Africa, said Wang.

Chirac is devoted to building a "comprehensive strategic partnership" with China and the current visit could set the tone for the future development of bilateral relations, no matter who succeeds him next year, according to Wang.

"Never in the long history of France-China relations have our communications been so close, our mutual trust so much deepened and high-level contacts so frequent," said Chirac in an interview with Xinhua before the trip.

"Part of France's place in the world of tomorrow depends on its ability to build a particularly strong relationship with China," Chirac's spokesman Jerome Bonnafont was quoted as saying.

On the economic front, Chirac is travelling with some 30 French business leaders and hopes to clinch agreements in areas such as nuclear energy and rail transport where France enjoys technological advantages.

The chief executives include Jean-Martin Folz of Peugeot, Areva's Anne Lauvergeon and Alstom's Patrick Kron, along with Societe Generale Chairman Daniel Bouton and Airbus' Louis Gallois.

Airbus is reportedly keen to win orders on the trip, and nuclear reactor maker Areva has bid for a contract with Germany's Siemens AG against Westinghouse Electric Co and Russia's AtomStroyExport.

Alstom, the world's biggest maker of high-speed trains, aims to boost sales in China, while France's Societe Generale bank wants to collaborate with Guangdong Development Bank.

Bilateral trade volume reached US$20.65 billion last year and totalled US$9.52 billion in the first five months of this year, up 21.2 per cent over the same period of last year.