Joining the Red Army
So even in her early teens, she easily embraced the ideas for change especially the liberation of women from feudal rituals from her uncle-in-law, a member of the Communist Party of China. Driven by the aspiration to help realize all these ideas, she joined the Red Army, which was led by the Communist Party of China, in 1931. She was only 14.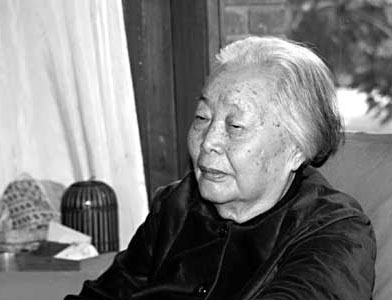 Wang Ronghua often recalls the days of extreme hardship during the great trek even though more than 70 years have passed.


During the next four years, she and her colleagues worked in the mountainous areas in today's Hubei, Sichuan and Shaanxi provinces, mobilizing local poor peasants and spreading the ideas that only revolution would enable everyone to shake off a life of deprivation and have enough food and clothing.

She also worked at the Shaanxi-Sichuan Communist-led Soviet Government as director of the postal service bureau. "This was the largest postal service of all Communist-led areas," Liu Meng said.

In late April 1935, the Red Army's Fourth Front Army withdrew from the revolutionary base on the border between Sichuan and Shaanxi provinces to go westward and Wang went along.

Wang, then 19, became one of more than 2,000 Chinese women, who trudged and fought alongside tens of thousands of their male colleagues on their way to build new revolutionary bases for a united resistance against Japanese invasion.

In June the same year, the Central Red Army, which had fought all the way from East China's Jiangxi and Fujian provinces through Central China's Hunan and Southwest China's Yunnan, Guizhou and then Sichuan provinces, became united with the Fourth Front Army in Maogong, in today's Xiaojin County, in Aba Tibet Autonomous Prefecture, northwestern part of Sichuan.

"At that time, people (from our Fourth Front Army) all talked about the Central Red Army, and I also heard about an army strategist named Liu Bocheng," Wang recalled with a smile.

In modern Chinese military history, Liu was a legend. He was called "Chinese Mars" by his German doctor, who operated on Liu after a bullet shot through his right temple and came out his right eye in a battle against warlord in 1916. He was considered the modern Sun Tzu by his colleagues in the Red Army and then the People's Liberation Army.

During the War of Resistance Against Japanese Aggression (1937-45), he was the commander of the 129th Division of the Eighth Route Army, leading a series of victorious battles to weaken the Japanese forces.

Even Chiang Kai-shek had to admit that Liu's wisdom was far beyond his peers.