Wang Ronghua joined the Red Army when she was 14, and five years later during the Long March, fell in love and married Red Army Chief of Staff Liu Bocheng. Li Xing reports.
Wang Ronghua is approaching 90 and still takes care of some daily routines. She insists upon having fresh green vegetables grown in her home courtyard in downtown Beijing, although a supermarket and farmers' grocery store are within walking distance of her residence. One of the first things she asks people around her to do is to water the vegetable patch, when she is not feeling well and unable to do it herself.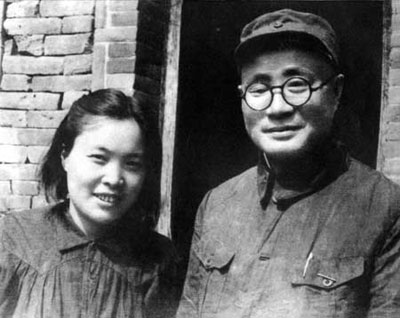 Wang Ronghua poses with her husband Liu Bocheng after the victory of the Long March. "We tie the knots because we share the same ideals and the same life's goal" Wang recalled.


"So we have a steady supply of green vegetables," said Liu Meng, Wang's fifth child and an army officer now working in Guangzhou.

Wang likes to watch television drama series, especially those featuring families and romances, and often discusses with her children the rights or wrongs of the protagonists.

And she follows the news of China and the world closely. When Liang Guanglie, general chief of staff of the People's Liberation Army, visited her during Spring Festival in early February, she discussed with Liang how Iraq lost its only port town to the Gulf during the Gulf War.

"We children were still surprised at our mother's sharp mind," Liu said.

Liu said it shouldn't be a surprise as she learned to analyse complicated situations such as wars when young.

"People often retrace their footsteps in their youths when entering the old age," she said in her memoir. "The things in the past still linger in the mind, even though more than 70 years have passed."

When she sits down in an armchair during the day for a rest, she replays the scenes in her mind when she trekked her way through the marshes in the grassland three times along with other Red Army soldiers in the famous Long March (1934-36).

Those were the days of extreme hardships, but it was during the trials and tribulations on the Long March that Wang met her future partner, Liu Bocheng (1892-1986), then the chief of staff of the Red Army and later Marshal of the People's Liberation Army.

Wang was born and grew up in a peasant's family in western part of today's Anhui Province, in East China. Poverty and constant hunger haunted her family year in and out. "That is why she has retained her childhood taste buds for 'salted fish'," a local specialty in mountainous Anhui Province, Liu Meng said.

"We younger people could not even stand the smell."