UN council condemns DPRK's nuclear test
Hu tells Bush: policy on nuclear issue will not change
DPRK takes uneven road to nuclear weapons
Text of North Korea's nuke announcement
China said Tuesday that it has not changed its policy on developing good-neighborly relations with the Democratic People's Republic of Korea (DPRK), though the latter's nuclear test has had a negative impact on the ties.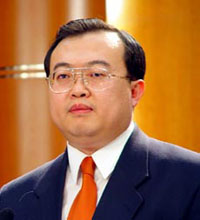 China's Foreign Ministry spokesman Liu Jianchao. [File]
"In dealing with the bilateral ties, we stick to two principles: first, the development of the ties should serve the common interests of both sides; second, it should be conducive to the peace, stability and development of Korean Peninsula and Northeast Asia,"Chinese Foreign Ministry spokesman Liu Jianchao told a regular press conference.
He said the DPRK ignored opposition of the international community and flagrantly conducted the nuclear test, and the Chinese government is resolutely opposed to it.
But the spokesman said China will continue to develop good-neighborly and friendly cooperation with the DPRK and this policy is unshakable.
According to a report by the official Korean Central News Agency (KCNA), the DPRK conducted an underground nuclear test on October 9.
The nuclear test, the first conducted by the DPRK, came about a week after the country announced it would undertake an unprecedented atomic test under the condition where safety is firmly guaranteed.
The nuclear test has strained the situation of Korean Peninsula, said Liu, and he called for calm response from all parties concerned.
He urged the DPRK to observe its commitment to non-nuclearization on Korean Peninsula and stop taking any action that may worsen the current situation.
China and the DPRK have kept contact and consultations on non-nuclearization of the Peninsula in recent years. China will continue to have contact and consultations with all parties concerned so as to bring them back to talks,said the spokesman.
China is resolutely opposed to solving the Korean Peninsular nuclear issue by means of war, said Liu, adding that the humanitarian needs of the DPRK people should be taken into full consideration when any action is taken.
"We sincerely hope that the DPRK can enjoy peace, stability, development and prosperity," Liu said.
He also confirmed that China has kept a close eye on the aftermath of the nuke test, but so far no air pollution from it has been detected.