Trade surplus up 55%, at 'safe level'
By Jiang Wei (China Daily)
Updated: 2006-07-15 05:28
China's total FDI inflow was some US$28.4 billion in the first half of this year, reflecting a decline of 0.47 per cent from a year ago, while officials did not reveal the figure of contracted foreign investment that China earned during the same period.

"I would attribute the decline to some foreign companies cutting their investment to China, in particular to some low value-added sectors, because of the price rises of raw materials and labour resources in China," said Mei Xinyu, a researcher with the Chinese Academy of International Trade and Economic Co-operation, a commerce ministry think-tank.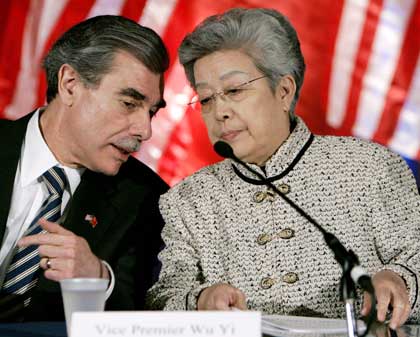 U.S. Secretary of Commerce Carlos Gutierrez (L) and Chinese Vice Premier Wu Yi attend a news conference following the annual U.S.-China Joint Comission on Commerce and Trade in Washington April 11, 2006. [Reuters]

Some domestic investors may have also stopped disguising themselves as foreign companies as the government speeds up uniformity of income taxes on foreign enterprises and domestic companies, he said. The tax rate is now about 23 per cent for domestic firms, but 10-13 per cent for foreign companies.

"But it is not a bad thing, it is even good for the economy to some degree," Mei said. He explained this would help to wash out fake foreign investment and push foreign investors to spend more on research and development in China.

At the same time, the spokesman also responded to European Union Trade Commissioner Peter Mandelson's recent comment on China.

Having noted that "for every four containers loaded at Shenzhen for Europe, three still come back empty," Mandelson said there would be "a big problem" if those containers stay empty, "because the rights of European businesses are not being properly protected in China, or because they do not have proper access to the Chinese market."

But Chong indicated that lots of Europe's exports to China may not be shipped in containers, "because China mainly exports labour-intensive products and imports high value-added technology-intensive products," he said.