Trade surplus up 55%, at 'safe level'
By Jiang Wei (China Daily)
Updated: 2006-07-15 05:28
A key commerce official has defended China's rising trade surplus as remaining at an "acceptable level," while revealing that the growth of foreign investment in the country is slowing down.
Ministry of Commerce spokesman Chong Quan said on Friday that the country's trade surplus now accounts for 7.7 per cent of its total foreign trade volume, "much lower than the internationally recognized danger level of 10 per cent."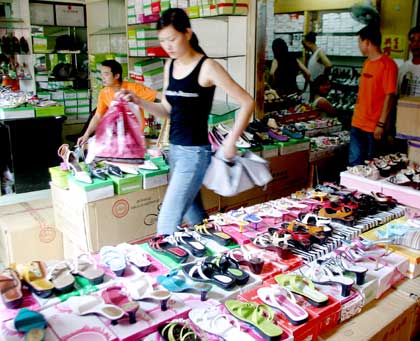 Customers make their purchases at a shoes market in Wenzhou in this undated photo. [newsphoto]


China's trade surplus in the first half of 2006 was US$61.5 billion, reflecting a sharp increase of 54.9 per cent from a year ago, when its imports and exports totalled US$795.7 billion.

China's growing trade surplus is a natural result of international industrial restructuring, despite the country's efforts to keep a balance between imports and exports, the spokesman said.

"During the course of the industrial restructuring, China not only took over the role as a world manufacturing centre, but also took over trade surpluses from some countries," he said.

Chong said China's trade surplus resulted from multinationals moving their investment to China from other Asian countries, producing numerous products here and exporting them with a "Made-in-China" label.

His remarks were echoed by Zhai Zhihong, an official with the National Statistics Bureau (NSB), who said the country's trade imbalance was largely the result of foreign-invested processing operations.

According to NSB figures, nearly 90 per cent of the country's trade surplus came from processing trade since 2000 and over 70 per cent of the surplus was from foreign-invested firms.

In another development, realized foreign direct investment (FDI) to China dropped 12.23 per cent last month year-on-year to US$5.44 billion, according to the spokesman.