With a Long March-II-F carrier rocket pushing Shenzhou-5 into the orbit some 300 kilometers away from the Earth Wednesday morning, Yang Liwei, 38, turns out to be China's first astronaut in space.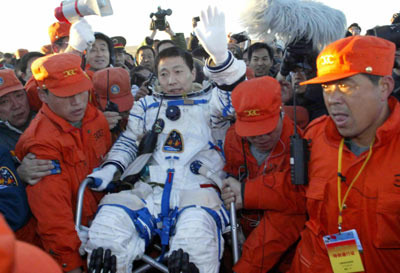 Yang Liwei, China's first space man, waves to the recovery teams after walking out of the return capsule of the Shenzhou V spaceship Thursday morning, October 16. [Xinhua/file]
At 9 a.m. Wednesday (Beijing time), Yang, aboard Shenzhou-5 white in color, took off from the Jiuquan Satellite Launch Center on the Gobi desert in northwest China's Gansu Province.
He is expected to land somewhere on a central Inner Mongolia grassland at 7 a.m. Thursday, after orbiting the earth 14 times. Yang will be traveling some 500,000 kilometers in space in 21 hours, a "traveler's record" in the world's most populous nation with a 5,000-year-old civilization.
When Shenzhou-5 entered orbit on schedule, the ground command center received a message sent by Yang from outer space, saying that "everything goes smoothly". His name, however, had remained unknown until 5 a.m. Wednesday,
At 5 a.m. sharp Wednesday, Yang was seen waving his hands to a group of journalists from inside a glass-shielded room at the Jiuquan launch center, with two other astronauts sitting beside him as "backups".
Yang, who looked calm, found himself in a shower of camera flashlights. He responded with a broad smile.
In an exclusive interview with Xinhua, Yang expressed full confidence in China's first manned space flight
Su Shuangning, director-general and chief designer of the astronaut system under China's manned space program, described Yang as a sober-minded person with a "superb capability of self- control".
While a fighter pilot, Yang had 1,350 hours of flight experience. He was chosen, along with 13 others, from among 1,500 pilots for space flight training.
Yang's colleagues described him as a man with a good team spirit, a man of dedication to his career. Friends at his hometown, Suizhong County of northeast China's Liaoning Province, remember that Yang had dreamed of flying when still a child.
Yang was recruited by the No. 2 Aviation College of the PLA Air Force in September 1983 and became a fighter pilot after graduation with bachelor's degree. In 1998, Yang became a member of China's first team of astronauts.
Yang, 168 cm tall, is a lieutenant colonel. He has an eight- year-old son, and his wife, Zhang Yumei, also serves in China's space program.
According to Su Shuangning, China's first team of astronauts are all capable of working and living in space thanks to five years of rigid physical, psychological and technical training. He said that Yang Liwei was one of the best in the team.
In an Astronaut Training Base in Beijing, China's would-be astronauts had lessons necessary for space flight, including aviation dynamics, air dynamics, geophysics, meteorology, astronomy, space navigation, design principle and structure of rockets and spacecraft, as well as equipment examination. Moreover, they received systematic training in space flight in simulators.
"To establish myself as a qualified astronaut, I have studied harder than in my college years and have received training much tougher than for a fighter pilot," said Yang.
If the spaceship's re-entry module could not land at the pre- set areas and the recovery team could not rush to the spot on time, the astronaut must act for self-rescue. "Therefore, survival skills have become one of the most important knowledge for the astronauts to grasp", said Su Shuangning. "Through rigorous training, our astronauts have learned how to survive under extreme conditions."
Twenty-five days before the launch of Shenzhou-5, the would-be astronauts started exercising in the real spacecraft at the Jiuquan Launch Center.
"When I boarded the spacecraft for the first time, I couldn't help feeling excited," Yang recalled. "I decided that I must fly it."
At 6:15 a.m. Wednesday, Yang got seated in the re-entry module of Shenzhou-5, atop a 58.3-meter-high Long March-II-F carrier rocket. Between 1999 and 2002, Long March-II-F carrier rockets were used to launch four unmanned spacecraft into orbit, and all the launches were successful.