Three-Decade Ties
George H.W. Bush chose to be the director of the US Liaison Office in China and arrived in Beijing with Secretary of State Henry Kissinger on October 21,1974.
During his tenure as director, George H.W. Bush met with Chairman Mao Zedong on two occasions, accompanying Secretary of State Kissinger on October 21, 1975 and President Ford on December 2, 1975 respectively.
The Bushes and Bicycles
George H.W. Bush won the nickname "a bicycle-riding envoy" during the mid 1970s.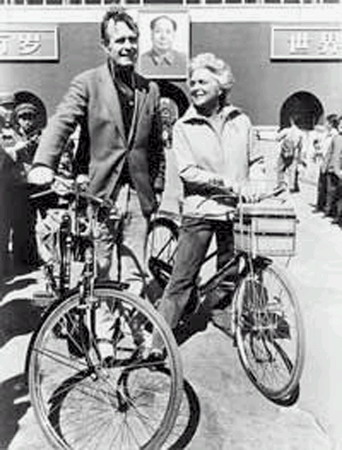 George H. W. Bush and his wife Barbara Bush ride bikes around Beijing in front of Tian'anmen Square during his tenure as the top US diplomat to China from October 21, 1974 to December 7, 1975. [Xinhua]
One month after he was sworn in as US President in 1989, he started his official visit to China.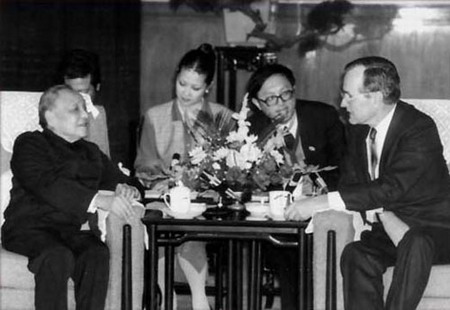 Deng Xiaoping (left), then Chairman of the Central Military Committee of the PLA, meets with then-US President George H. W. Bush (Senior Bush) in Beijing on February 26, 1989. [Xinhua]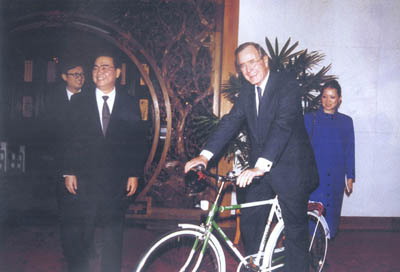 Then Chinese Premier Li Peng presents a bike as a gift to his old friend, then US President George H. W. Bush (Senior Bush), during his visit to China on February 25, 1989. [Xinhua]