Editor's Note: Scientists use age, gender, income, education etc to determine demographics. But Chinese netizens have an intuitive approach. They resort to the notion of "tribes" ("zu" in Chinese) to classify emerging trends - online or offline - that characterize today's young. New words are coined to describe these "tribes", often with homonyms and puns. Underneath, it is an effort to capture the multifaceted and ever changing aspects of life for essentially one demographic - those born in the 1980s. [The Top 10 Everything of 2009]
4. The rice-bowl-test-taking tribe (考碗族)
5. The Internet model tribe (麻豆族)
6. The coupon-crazed tribe (淘券族)
7. The number-copying tribe (抄号族)
8. The pretend-to-be-busy tribe (装忙族)
9. The marriage-concealing tribe (隐婚族)
10. The rush-to-get-pregnant tribe (闪孕族)
1. The McDull tribe (麦兜族)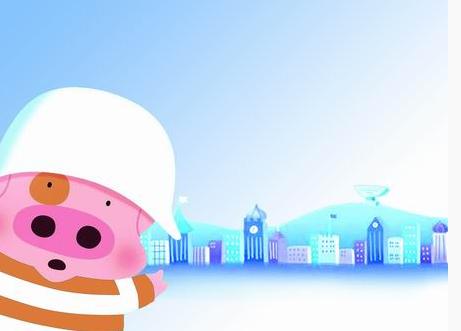 Photo/baidu.com
He is not that smart; he doesn't have a rich dad; and he is perhaps the commonest of all of the commons. But he is forever Pollyannaish, working hard and honestly to realize his little dreams.
McDull the little cartoon pig, originated in a Hong Kong comic strip, is not alone.
In China, there are tens of thousands of young "McDulls". Born after the year 1980 - the so-called post-80s generation, they are McDullish in every way: they are mostly from grassroots families; they earn a hard living in major cities like Beijing and Shanghai; and they never give up their dreams. They are the McDull Tribe.
Related readings:


 Cartoon piglet brings home the bacon in mainland debut
2. The low carbon tribe (低碳族)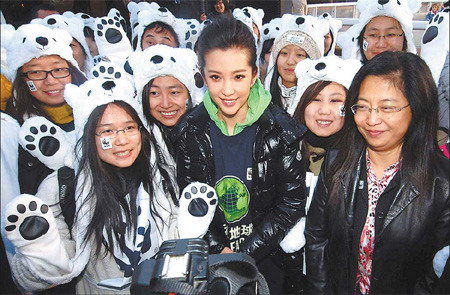 Actress Li Bingbing (center), an ambassador with the Earth Hour campaign in Asia organized by the WWF, joins volunteers to advocate for a low-carbon lifestyle in Beijing. [Photo/Xinhua]
They unplug their electric appliances whenever possible; they wash clothes by hand; they eat less meat; and they climb stairs instead of using elevators. Besides, they also plant trees.
Their efforts are aimed at balancing their carbon dioxide emissions. They say helping save the planet is part of their daily routine. More importantly, they see this lifestyle as fashionable.
Who are they? They call themselves "the low-carbon tribe". If you are not already one of them, you might consider joining them - at least to be trendy if not for the ecosystem.
Related readings:


 Low-carbon lifestyle fashionable
3. The ant tribe (蚁族)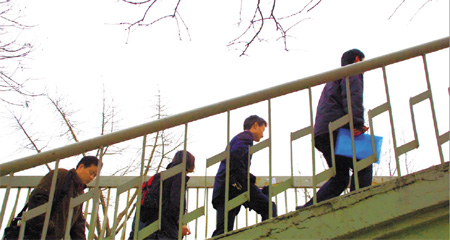 Several "ants", or struggling college graduates, on their way to work. [China Daily]
They were born in the 1980s and now live in the underdeveloped suburbs of major cities. The majority come from other areas, particularly the countryside, and they are mostly young graduates who started their college life in 1999, when Chinese universities increased their enrollment dramatically. They don't have a stable job and their salary is averaged at 2,200 yuan ($320).
They are the 'ants', according to Lian Si, a post-doctoral fellow at Peking University who coined the phrase "ant tribe" and wrote a book on it. Indeed, they share every similarity with "ants": living in "colonies" in cramped area, intelligent, hardworking, yet anonymous and underpaid.
In Beijing alone, they are numbered at more than 100,000.
Related readings:


 Tribal struggles


 Ant tribe
4. The rice-bowl-test-taking tribe (考碗族)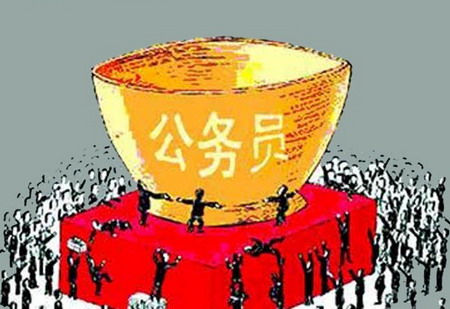 The Chinese characters on the giant golden bowl mean "civil servants". [Photo/Xinhua]
They are young. They take a variety of civil service exams at different governmental levels. They often fail several times and become unemployed for a couple of years. But they are determined and have only one target in mind: to be a civil servant.
They are the rice-bowl-test-taking tribe.
With almost guaranteed stability and generous welfare package, a civil servant has long been regarded as a position of "iron rice bowl". But according to the newest categorization, today's "iron rice bowls" are mostly county or township positions. Higher than that are the "bronze" rice bowls - those governmental positions at the municipal level - and the "silver" rice bowls at the provincial level. And to cap it all, the "golden" rice bowls denote the state level.
Related readings:


 Farmers, workers can move up


 No return to the 'iron rice bowl'


 33,000 sit civil servant exam in Shaanxi


 Thousands applying for govt jobs
5. The Internet model tribe (麻豆族)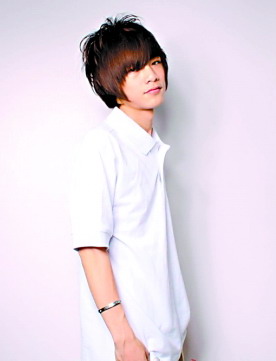 An Internet model is shown in this picture. [Photo/Guangzhou Daily]
They don't have to walk the catwalk and more often than not, they don't have a pretty face or slim figure. They are demonstrating not the productions of some big-name designers but the new arrivals of the Internet stores.
They are, by corollary, amateurish. Still, they regard themselves as models.
The booming online business has not only been transforming people's shopping habits, but also opening new channels for those with a business mind. While they are still not seen as professionals, it might not be long before the Internet models are recognized as a real occupation.
6. The coupon-crazed tribe (淘券族)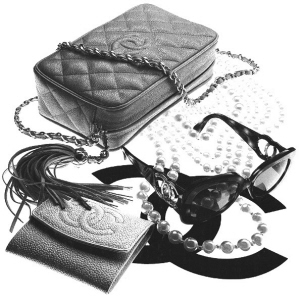 Photo/Xinhua
They are obsessed with coupons.
They know which restaurant serves good but cheap food, which shopping mall is offering big discounts, and which gym's membership card is the best bargain. The best part is they don't even have to step out of their house to get all the tips: they seek out every bit of information on the Internet. Their creed is: don't even bother to go shopping if you are not armed with coupons.
Some say their "bargain mentality" encourages rational spending, but others also warn against rash and unnecessary consumption - buying for the sake of coupons.
7. The number-copying tribe (抄号族)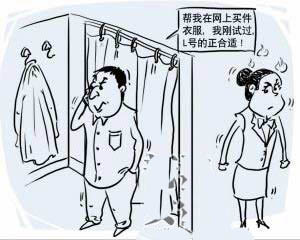 The man on the picture says: "Please buy me a jacket on the Internet store. I just tried one on and L size will be fine." [Photo/Chongqing Evening News]
Copy the number before you buy. That's the message from the number-copying tribe.
They love comparing prices and try on different clothes whenever possible. They are just like other customers. The only difference is they don't buy those clothes they like - only later: after copying the crucial information, they buy them from the Internet stores, where the same items are often much cheaper.
Shop assistants may be annoyed by their number-copying behavior, but they are consumers and know how to save.
8. The pretend-to-be-busy tribe (装忙族)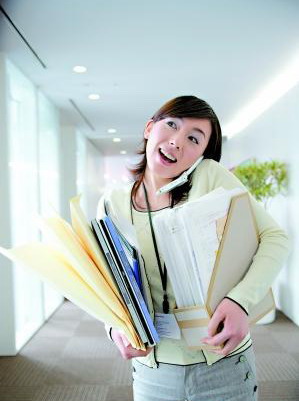 Photo/Guangzhou Daily
They are invariably white-collar workers. Instead of "hello", they greet each other with "are you busy lately?" Their answers always indicate they are too busy. Their desks are forever stacked with piles of documents. And they can hardly turn away from the computer screen any time of the day.
It looks as if they are workaholics. Only that they are not. They just pretend to be.
Oftentimes, their pile-up documents are just papers which should have been thrown into the waste basket a long time ago. The computer screen? The most common trick is to paste a novel into a work-related word document. In fact, there are many more tricks that you did not know.
Why do they do this? The monotony of nine-to-five, the fear of losing face if the other colleagues appear busy, and the experience that hard work has not been recognized...Forget all these far-fetched excuses. They just want to goof off.
9. The marriage-concealing tribe (隐婚族)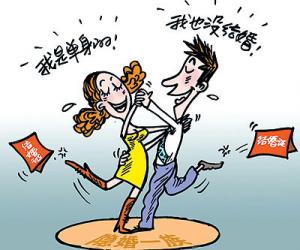 The woman on the picture says: "I'm single." The man says: "I'm not married, either." [Photo/hudong.com]  
They are aged between 25 and 35. They are mostly female white-collar workers. Privately and legally, they are married. But publicly, they say they are not.
They conceal their marriages for a variety of reasons, the majority of which are work-related. They might fear discrimination from their supervisors, as the latter tend to think of their family duty as a distraction from work. Similarly, they might feel slighted by their colleagues, as the latter often see their family duty as a drag on parties and fun-loving activities.
In other words, they just couldn't get to admit their marital status.
10. The rush-to-get-pregnant tribe (闪孕族)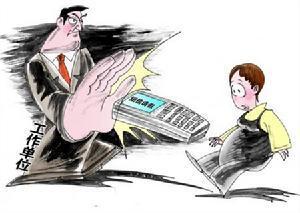 The four Chinese characters on the left of the picture mean "work unit". [Photo/hudong.com]  
They are also female white-collar workers. They didn't have any plan to have a child until the economic crisis struck. Then they decided to get pregnant - as quickly as possible.
They are afraid of getting fired. China's labor law stipulates that a company should not fire a pregnant employee unless the company is insolvent. "Get pregnant as soon as possible" became a mantra at the height of the economic crisis. Indeed, so many female employees made this choice that they were collectively dubbed "the rush-to-get-pregnant tribe".