Lenovo reports profits higher than expected
Updated: 2013-11-08 09:28
Booming sales of smartphones and tablets behind increase
Lenovo Group Ltd reported a higher-than-expected second-quarter profit on Thursday boosted by growing sales in the smartphone and tablet markets.
The world's largest personal computer maker said its net profit stood at $220 million in the quarter ended in September, a jump of 36 percent year-on-year.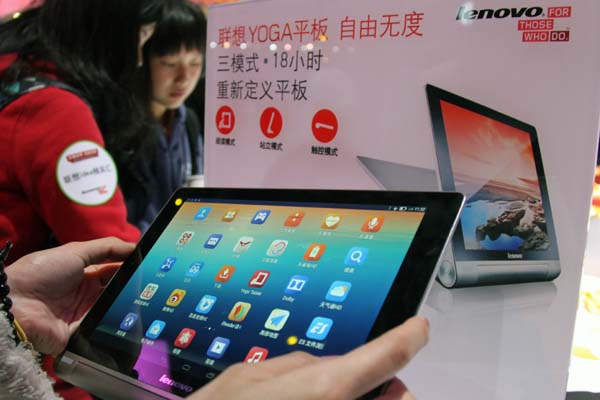 A visitor photographs Lenovo Group Ltd's Yoga Tablet at a show in Beijing. The company's second-quarter revenue was $9.8 billion, a 13 percent year-on-year gain.[Photo/China Daily] 
The company's quarterly revenue was $9.8 billion, a 13 percent increase compared with the same period last year.
A sales increase in emerging mobile devices was one of the major contributors for its business growth.
Yang Yuanqing, chairman and chief executive officer of Lenovo, said the company has sold more mobile devices than personal computers over the past months. Lenovo's consumer electronics unit, the major product lines of which were smartphones and tablets, contributed $1.5 billion in revenue.
The Beijing-based company said it has sold 29 million devices in the past quarter, the highest in the company's history. The young smartphone and tablet units are both profitable because of surging sales in emerging markets worldwide.
"Overseas mergers and acquisitions provided a major driver for Lenovo's business growth in previous quarters. This quarter's growth was because of Lenovo's own innovation and successful marketing strategy in the mobile devices sector," said Antonio Wang, associate director at industry consultancy IDC China.
Data from IDC showed Lenovo shipped 12.3 million smartphones from July to September.
However, its smartphone shipments still lagged behind Apple Inc, Samsung Electronics Co Ltd and Huawei Technologies Co Ltd.
The total shipments of the top three exceeded 127 million, according to IDC.