Lenovo launches new Yoga tablet
Updated: 2013-10-30 10:35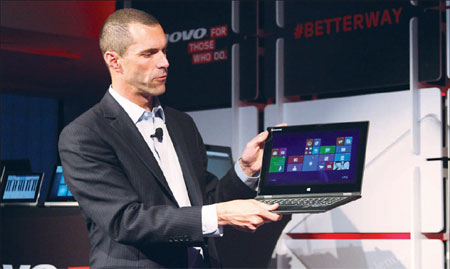 Jay Parker, president of Lenovo's North American operations, talking about the company's "multimode" devices at a preview launch event where the company's new Yoga tablet made its debut. [Photo / China Daily]
Hold, tilt or stand - each mode of use gets assist from auto kickstand
It's called the Yoga tablet and Chinese personal computer giant Lenovo says its new product is "game changing" because the device allows multiple ways to use it.
The Yoga tablet debuted Tuesday in New York and Los Angeles after Lenovo's new ad campaign teased potential customers with the product last week. The company used a series of short Vine ads - six-second videos that are shareable through social media - demonstrating how computer tablets should be changed for better comfort of use and hinting at Lenovo's innovations.
The new product has three different "modes" for customer use: hold, tilt and stand. Each is assisted by an internal mechanism called a kickstand, which pops out to help tilt the tablet or to stand it up. With the modes, Lenovo said that the tablet "adapts to the way people use it instead of forcing people to adapt to the technology."
"Watching and discovering that people frequently use tablets in three main ways allowed us to break the mold on the current 'sea of sameness' designs," said Liu Jun, senior vice-president and president of Lenovo Business Group, in a statement.
Lenovo said that designers came up with the three modes when they realized that tablet users often faced three challenges when using their products: fatigue when holding the product, no mechanism to support the product when it lies on a flat surface and an inadequate viewing angle when the tablet is set on a table.
Jay Parker, president of Lenovo's North American operations, said that the Yoga's unique modes break away from what users have come to expect from tablets. "Tablets came into the market a few years ago with much fanfare. They have changed the way we use technology in many ways, but if you think about it, they haven't really changed very much," he said at the New York preview of the product.
"The design is roughly the same, the specs are roughly the same, and there's not much differentiation save a couple of different [operating system] choices," said Parker. "We believe that changes tonight with the advent of the Yoga tablet."