Huawei to invest $200m in new UK R&D facility
Updated: 2013-10-17 07:12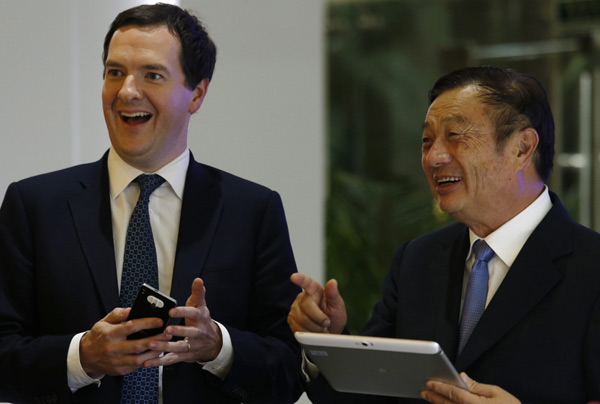 British Chancellor of the Exchequer George Osborne (left) and Huawei CEO and founder Ren Zhengfei talk at Huawei's headquarters in Shenzhen on Wednesday. [Photo / Provided to China Daily]
Center to have more than 300 researchers
Chinese telecom giant Huawei Technologies Co Ltd said it will invest $200 million to construct a new research and development center in the United Kingdom, according to Ren Zhengfei, the company's founder and chief executive officer.
In a company news release, Huawei made a rare move to disclose its founder's daily activities. The company said Ren met UK Chancellor of the Exchequer George Osborne, who paid a visit to Huawei's Shenzhen headquarters on Wednesday.
Ren said the new R&D center will be built near the current Ipswich research office, which has about 80 staff. By 2017, the new R&D center will have a senior researcher headcount of more than 300. The exact location of the new R&D center has yet to be decided.
The center will focus on areas of optoelectronics, terminal design and software development. Huawei will apply its research progress to serve clients in 140 markets worldwide, said the company.
Huawei said in September 2012 that it will invest 650 million pounds and spend a further 650 million pounds ($1.04 billion) on procurement in the UK over the next five years. It plans to nearly double the number of its UK employees to 1,500 by 2017.
Osborne said that despite other Western countries making it difficult for Huawei to do business abroad, such as the United States, Britain will remain open to investment from the Chinese networking giant.
He said the United Kingdom and China are progressing to build up an in-depth partnership and what is making people most excited is the cooperation of high-tech companies between both countries. "We welcome Huawei to make investments in the United Kingdom," Osborne said.