Weibo for Taobao released
Updated: 2013-08-01 17:39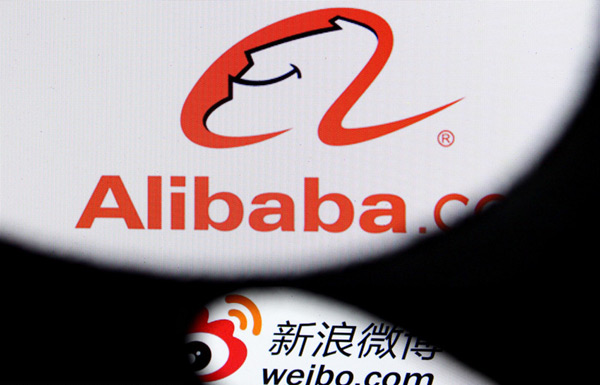 An advertisement of Alibaba.com and Sina Weibo.com is pictured on May 2, 2013 in Dezhou, Shandong province [Photo / Image China]
Sina and Alibaba today announced the long-awaited Weibo for Taobao. Retailers then will be able to use Weibo and monitor metrics directly from the Taobao system.
Sina Weibo is integrated into Taobao system that retailers don't have to open the former to interact with audiences. Apart from everything a Weibo account can do to interact with followers and other Weibo users, there is an analytics service that analyze followers, Weibo page performance, conversion rate, etc.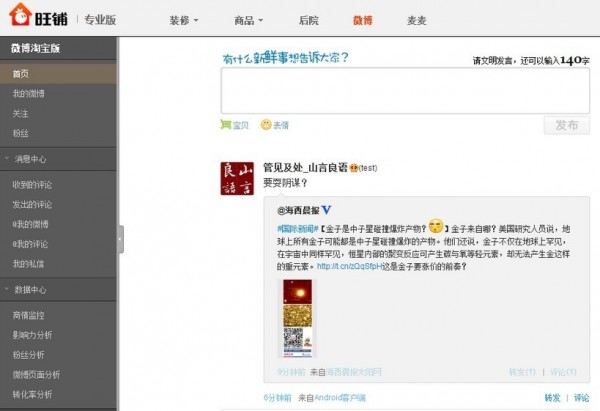 Weibo has been integrated into Taobao system [Photo / technode.com] 
Weibo messages with information about goods will show the name of the Taobao store, price of a good and how many Likes the good has gained. Weibo users, however, will be directed to the Taobao page to buy the item, not directly on Weibo.

Currently only the Web version is available. A mobile version is under development.
It's unknown whether Sina will receive any fees or transaction-based commissions. It looks it'll be more helpful to Taobao that retailers will gain knowledge about their audiences and Taobao can collect more data.
As the dominating micro-blogging service in China, Sina Weibo doesn't seem to have figured out a good way to take advantage of the huge user data. Not long after Alibaba made the strategic investment in Sina Weibo earlier this year, the latter began featuring contextual ads from Taobao's Alimama. But the adverts are based on users' browsing history on Taobao, not that on Sina Weibo. It is also found that Sina Weibo users became not that active.

Tracey Xiang is a Beijing-based tech reporter.
You can reach her at tracey@technode.com