New model to tackle excessive steel capacity
Updated: 2013-12-24 09:24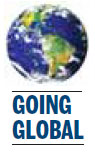 Tangshan Iron and Steel Group Co Ltd is leading the effort to go abroad as the country's steel and iron industry struggles with overcapacity, reports Du Juan from Tangshan, Hebei province
Against the background of the overcapacity problem in China's steel industry, Deutsche Bank AG said last Monday that it has, together with Duferco SA, an international steel dealer, arranged an $800 million structured prepayment term loan facility for Tangsteel in Tangshan, an industrial city in northeastern Hebei province.
It is the largest structured commodity trade financing facility ever completed for a Chinese company.
"Like Tangsteel, there are many strong and active players in the steel industry in China that continue to contribute to its economic growth. This round of financing is meant to support Tangsteel's export of high-end cold rolled steel products," said Frank Wu, regional head of structured commodity trade finance, Asia-Pacific, for global transaction banking at Deutsche Bank.
He said increasing exports of steel products from such Chinese companies can help utilize the capacity in the domestic market.
Behind this comprehensive and supportive cooperation among the international bank, steel trader and the Chinese steelmaker is a "smart model" for making full use of the advantages of each party to survive the market, said Zhang Tieshan, a senior analyst from steel information provider Mysteel.com.
"There are various ways for Chinese steel companies to go abroad in addition to just selling products," he said.
In March, Tangsteel acquired a 10 percent stake in Switzerland's Duferco International Trade Holding, the world's biggest steel trader, as a start to deepening its cooperation in multiple methods in the international market.
At that time, the two companies signed a steel products structural payment agreement worth $1.2 billion, which gave Tangsteel a relatively more stable channel to sell its products abroad in the face of a gloomy domestic market.
"This global strategy is the key to Tangsteel's development," said Yu Yong, president of Tangsteel and also newly named president of Hebei Iron and Steel Group, Tangsteel's parent company, earlier this month.
Hebei Iron and Steel Group, HBIS for short, is the largest steel company in the country by output.
"The cooperation with Duferco has eased Tangsteel's financial pressure and increased the diversification of its marketing channels," said Yu.
He added that the cooperation will help provide Tangsteel with better financial services and access to resources such as raw materials from international iron ore giants.
"The internationalization is to make the best use of resources globally, especially good existing platforms and business models," he said.
Over the past year, Duferco's steel trade volume was more than 16 million metric tons, equal to the total output of HBIS.
Through its distribution channels, steel products can be sold to 28,000 end customers in European, North American and South American markets.
By cooperating with Duferco, Tangsteel's exports during the first 11 months of this year increased by 96 percent year-on-year to 2.79 million tons, according to data from the company.
For the same period last year, Tangsteel's export figure was 1.42 million tons.
Yu estimated that the figure will reach 4 million tons in 2014.
In 2009, when the two companies had just started cooperation, Tangsteel's exports to Duferco was only 67,000 tons.