PetroChina buys into Australia LNG project
Updated: 2012-12-13 10:03
Asia's largest oil producer seeks to increase its energy assets abroad
Asia's biggest oil producer PetroChina Co Ltd agreed to buy BHP Billiton Ltd's shares of liquefied natural gas project in Australia at a price of $1.63 billion - the biggest overseas acquisition by the company this year - to further expand its foreign assets.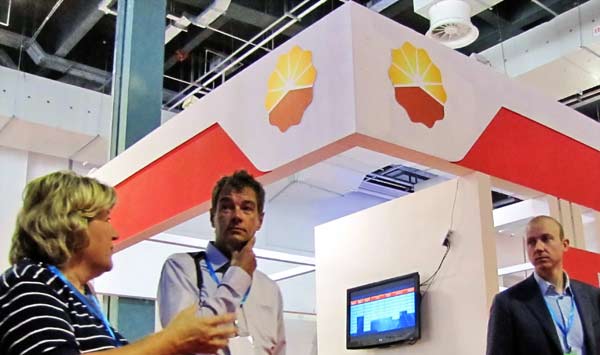 PetroChina's booth at a petroleum equipment exhibition in Shanghai. The company agreed to pay BHP Billiton Ltd $1.63 billion for a liquefied natural gas project in western Australia. Jing Wei / for China Daily 
International mining giant BHP announced on Wednesday that it will sell its 8.33 percent interest in the East Browse Joint Venture and 20 percent interest in the West Browse Joint Venture, located off western Australian, to the Chinese oil and gas company.
The deal is expected to be completed by the first half of 2013, the statement said.
It will help PetroChina enlarge its overseas energy assets even though it is an LNG project, said Wang Hui, an analyst at chem365.net, an online information provider for the petrochemical industry.
She said the company's overseas businesses are currently mainly in Asia. The deal will definitely help the company diversify its businesses by acquiring assets in other parts of the world.
PetroChina Chairman Jiang Jiemin said earlier this year that the company will invest at least $60 billion this decade in global oil and natural gas assets to increase its share of overseas output to half of its total by 2020.
This is the first time that the company has stepped into western Australia's offshore natural gas industry.
The Browse project has natural gas reserves of about 15.5 trillion cubic meters and is expected to start production in 2018 at the earliest.
China is trying to reduce carbon emissions by increasing the use of clean energy, and the country is making more efforts on LNG development as its appetite for natural gas rapidly grows.
Natural gas output this year is estimated at 107.7 billion cubic meters, a 5 percent rise compared with last year, and consumption is expected to reach about 147.68 billion cubic meters, a 13 percent increase compared with last year, according to the energy information consultancy ICIS C1 Energy.
Special Coverage

Related Readings
Imported LNG prices rise on increased domestic demand
China's oil companies build more LNG stations
CNPC to supply LNG to 200,000 vehicles by 2015
PetroChina to develop Canadian LNG project
PetroChina on 'buy' drive