Eyeing up jobs with Chinese companies
Updated: 2012-12-03 09:05
Active moves
In addition to talented foreigners, Chinese companies are also very interested in taking people who have experience in foreign companies. Lenovo Group, China's largest PC maker, hired more than 40 laid-off employees from its mobile product rival Motorola Mobility Holdings Inc in October.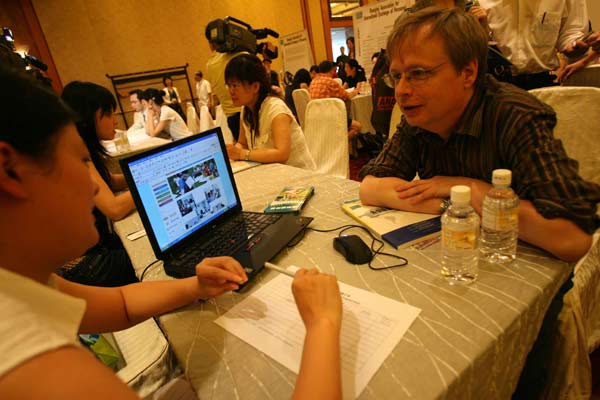 A senior expatriate discussing a compensation package with a Chinese company representative at a talent fair in East China's Jiangsu province. Yang Haifeng, a telecoms expert who is also chief editor of Communications World Weekly, said Chinese companies can provide expatriates with promising prospects, good experience and, of course, generous salaries. Mai Dou / For China Daily
Motorola Mobility announced in August that it planned to cut about 4,000 jobs - or 20 percent of its labor force - with two-thirds of the losses outside the United States. China's mobile product team, including the company's flagship cellphone product V3 research and development group, was included.
Chen Wenhui vice-president of Lenovo and general manager of phone research and development, said once Lenovo heard the news, it went to Nanjing Motorola's R&D center immediately.
Former Motorola talent would improve Lenovo's overseas market research ability because Motorola had many long-serving staff with good overseas experience, Chen said.
When the search giant Google Inc said it was shutting down its search service Google.cn on the Chinese mainland in 2010, its Chinese competitors also seized the opportunity to hire the US company's best staff.
A number of Google's senior executives left the company amid rising speculation that Google may further withdraw from the Chinese mainland with its decision to redirect its mainland traffic to Hong Kong.
These included Zhu Huican, the inventor of Google's image search service, who went to Tencent Holdings Ltd as the chief architect of the company's search service, but later he left again, and Wang Jin, who has been working at Baidu Inc as vice-president of technology after he left Google as former deputy director of its engineering and research institute.
For Tencent Holdings Ltd, the biggest Internet company in China by sales, talent is talent, whether it is Chinese or foreign.
"Bringing in foreign talent is quite normal here," said Chen Shuanghua, assistant general manager of Tencent's human resources department, adding that it is not the nationality but ability that matters.
Quite a few of Tencent's employees used to work at major IT companies, including Microsoft Corp, Google Inc and Oracle Corp, he said.
Tencent hired Steve Gray, former executive producer at Electronic Arts Inc. Gray, who led the project for the Lord of the Rings franchise, used to be invited to give lectures at Tencent. After Gray and Tencent knew each other better, he was offered a job at Tencent in 2009 as an executive in charge of game production. Tencent is the biggest online game operator in China.
It's not just research and development that benefits from foreign talent. So does global business expansion. Chen said Tencent's WeChat, a hit messaging application on mobile devices, owes part of its success to the overseas marketing teams that hire local foreigners.
As part of its recruitment efforts, Tencent has taken a team to the top US universities, such as Harvard and Massachusetts Institute of Technology, every year since 2008 to recruit those with a masters in business administration. Chen said each time Tencent recruits about 10 people, most of whom will be deployed in the strategy and investment divisions.
By the end of this year, the company will have added 5,000 more people, boosting its total payroll to more than 20,000 employees, Chen said. About half of them are fresh graduates from Chinese universities, while the rest are experienced professionals.