State Grid inks Australia deal
Updated: 2012-11-30 09:59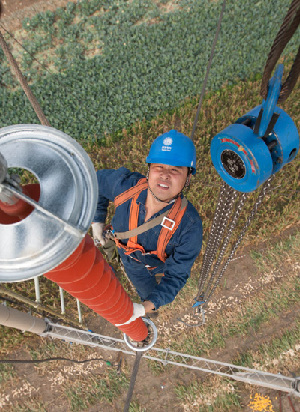 A State Grid Corp employee works on a transmission tower in Huaibei, Anhui province. [Photo/China Daily] 
State Grid Corp of China, the world's largest utility company, announced plans on Thursday to gain a 41.1 percent stake in a large Australian power company.
The proposed deal would see State Grid buy the stake in ElectraNet Pty Ltd, which operates the electrical grid in Southern Australia, from the Queensland state government's Powerlink.
Earlier this month, Liu Zhenya, president of State Grid, said the company aims to quadruple its overseas assets by 2020, bringing their value as high as $50 billion.
According to the Australian Financial Review newspaper, which first reported the deal, the transaction's value will be A$500 million ($523 million). Wang Jingjun, head of State Grid's communication department, called the figure inaccurate.
He said the proposed deal will be completed by the end of the year and its value remains confidential.
He said this attempted purchase marks the first time the company has tried to enter the Australian power market. If successful, it will be the latest in a series of overseas acquisitions.
In 2009, State Grid led a consortium to pay $3.95 billion for a 25-year license to run parts of the Philippines' power transmission network, marking China's largest investment in a single project in the Philippines.
In 2010, it invested $989 million in Brazilian power transmission lines in the company's first move into that market. In May, it returned to Brazil to acquire seven high-voltage transmission assets, which have a total length of around 2,800 kilometers and span eight Brazilian states.
The deal brought State Grid a 30-year license to operate more than 3,000 km of electrical lines in Brazil's largest cities.
Earlier this year, State Grid paid 387 million euros ($485 million) for a 25 percent stake in Portugal's national electrical grid.
Liu said the company's overseas assets offer higher returns than its domestic ones.
He said the net returns on overseas projects tend to be in double-digit percentages and the rate of return on them is about five times higher than on the company's domestic investments.
Han Xiaoping, chief information officer of the China Energy Net Consulting Co Ltd, said State Grid can improve its profitability by entering more overseas markets.
"Southern Australia has such a huge demand for power because of its rich mineral resources and developed mining industries," he said. "The Chinese company has advanced electrical-transmission technology and management skills, which will greatly help with the local power supply."
Analysts said the power company's increasing overseas acquisitions result from China's attempts to institute market reforms in its power industry.
State Grid enjoys a monopoly in power transmission in all but five southern provinces in the Chinese mainland. Various proposals to make the industry more open and subject to market forces have come forward in recent years.
Han said competition in private capital markets, which State Grid has entered through its overseas businesses, will help the company become a driver of power industry reforms in China.
"In fact, the company's current monopoly is not always helpful to State Grid," he said. "Subjecting the power industry to the market will help the company be more profitable."
dujuan@chinadaily.com.cn