CNOOC, Nexen reapply for US deal approval
Updated: 2012-11-28 14:59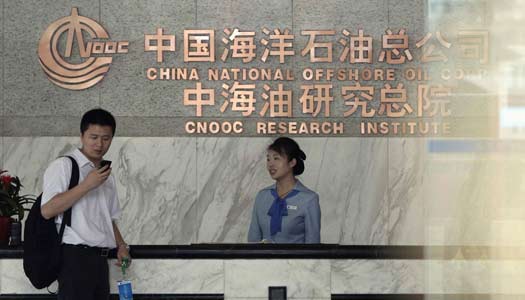 A man stands at the front desk of the headquarters of China National Offshore Oil Corp in Beijing, July 25, 2012. [Photo/Agencies] 
China's State-owned CNOOC Ltd and its Canadian takeover target Nexen Inc have withdrawn and resubmitted an application for US approval of their $15.1 billion deal, as Canada gets close to its decision on whether to approve the transaction.
The energy companies said on Tuesday that discussions with the Committee on Foreign Investment in the United States, or CFIUS, were still in progress, "with a view to completing the CFIUS review process as expeditiously as possible."
In a brief statement, they did not provide a reason for, or the timing of, the unexpected move. It was not immediately clear whether the announcement meant the process had hit a snag or signaled a delay in closing the deal, which has become a topic of heated debate in Canada.
A spokesman from Nexen was not immediately available for comment. A CNOOC official in the United States declined comment.
The companies filed for approval by CFIUS, an eight-member panel chaired by Treasury Secretary Timothy Geithner, because Nexen has extensive operations in the US Gulf of Mexico.
The review takes 75 days and appeared to be close to conclusion. By law, CFIUS and the Treasury Department cannot comment on reviews, and leaks about their deliberations are rare.
A source familiar with the proposed transaction described the refilling as "routine" and pointed out that other transactions have gone through a similar process.
The panel has the power to negotiate or impose conditions, including divestitures and security-control agreements to mitigate any national security threats. In rare cases, a final decision on whether to allow a deal goes to the president.
North of the border, Canada's Conservative government has set a deadline of Dec 10 for deciding if CNOOC's takeover of Nexen would bring a net benefit to the country. By law, it must decide whether to approve the deal on that basis, though the term "net benefit" remains imprecise.
The United States has proved skeptical in past years about Chinese investments. CFIUS recently rejected a bid to build wind farms in Oregon by Ralls Corp, owned by two executives of China's Sany Group, and has blocked multiple deals by Huawei Technologies Co, a Chinese telecom equipment manufacturer.