China urges manufacturers to expand global networks
Updated: 2012-11-23 07:48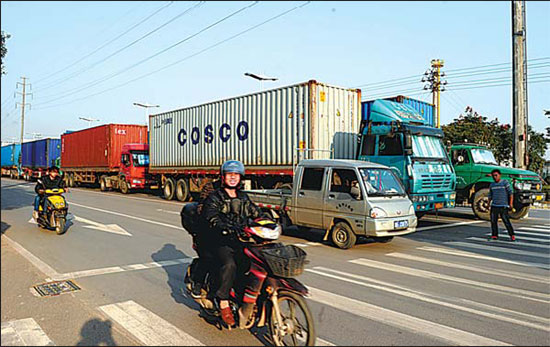 A line of container trucks headed for nearby ports carry exports from Yiwu, Zhejiang province. Zhang Jiancheng / For China Daily
China is looking at ways to encourage domestic manufacturers to expand overseas networks to boost shipments and promote branding amid a gloomy outlook for exports amid falling global demand, a senior commerce official said on Thursday.
Zhong Shan, vice-minister of commerce, said: "The ministry will draft a mid- and long-term plan on building up the international sales and marketing network especially in emerging markets" for Chinese exporters.
The ministry will identify two or three overseas sales centers or network bases as examples from which other domestic companies can learn, Zhong said.
He was speaking in Beijing during the Working Conference on Building International Marketing Networks.
His comments come as China's exporters are experiencing the toughest time since the start of the global financial crisis in 2008, as world economic growth falters and the eurozone debt crisis spreads.
The General Administration of Customs said China's shipments during the first 10 months of the year gained by 7.8 percent from a year earlier, while foreign trade rose 6.3 percent over the same period.
The country set a target of 10 percent for this year's foreign trade growth.
Commerce Minister Chen Deming said recently that the target will be much harder to reach given slackened global demand.
Zhong urged Chinese manufacturers to expand their overseas sales and marketing networks, saying this can "help boost foreign trade and enhance the brand image of made-in-China goods".
The ministry said more than 83 percent of Chinese investment deals in sales and marketing abroad were worth less than $1 million each. In 2011, only 4 percent of China's exports were realized through manufacturers' global sales networks.
Zhong said the traditional advantages for Chinese exporters, such as low labor costs, are "severely challenged, and time is pressing for them to foster new competitive edges in technology, quality, branding and service".
In September, the State Council announced a series of measures to maintain trade growth, including speeding up export tax rebates, reducing companies' administrative costs, and lowering financing costs for small and micro-sized enterprises.
The ministry will try to support traditional exporters in setting up their sales and marketing networks abroad, or in upgrading and expanding their networks, Zhong said.
Chinese retail and wholesale service providers are also being encouraged to establish or enhance their presence abroad to help the country's exporters increase their sales, he said.
The ministry said that China's investments mainly go toward rental and commercial services, finance, mining, and the retail and wholesale sectors.
Chinese companies have set up nearly 30,000 sales networks abroad, and companies represented by the country's leading telecom service provider, Huawei Technologies Co Ltd, have led this growth.
Huawei has built up a sales network in more than 110 countries and regions, and its products and services cover a third of the global population.
But Zhong said the overseas sales and marketing coverage of most Chinese companies and exporters is limited and their brand influence abroad is weak.
Bai Changhong, director of the Institute of Tourism and Service at Nankai University, said the fact that few Chinese businesses are among the world's top 500 companies could be attributed to them lagging far behind in terms of developing and controlling their global sales and marketing networks.
"Last year, 132 out of the top 500 enterprises worldwide were from the United States, and 68 were from Japan. Large amounts of research show they spend a lot on establishing sales and marketing networks," Bai said.
dingqingfen@chinadaily.com.cn