Nuke companies pursue future power abroad
Updated: 2012-11-03 11:48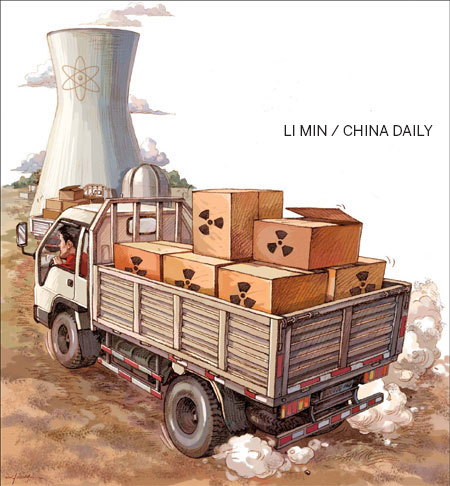 Demand for clean energy gives Chinese nuclear companies ample opportunities in overseas markets
Unsatisfied with being just a market and testing ground of new reactor technologies for developed countries, China is now looking to be an energetic developer of nuclear power plants around the world with ambitions that are poised to reshape the global nuclear industry.
Such trends became more visible after the Fukushima disaster in March 2011, as many Western nations like Germany, Italy and Switzerland decided to shelve nuclear energy plans due to safety concerns. The lingering financial crisis has also prompted many Western nations avoid overseas nuclear projects, thereby opening the doors for China in the global nuclear energy market.
The latest example of China's growing interest in foreign nuclear projects was seen in the bid made by China Guangdong Nuclear Power Holding Co Ltd and State Nuclear Power Technology Corporation, a subsidiary of China National Nuclear Corporation for the Horizon nuclear reactor-building program in the United Kingdom.
Although the two companies have reportedly withdrawn from the bid for reasons that remain unclear, industry experts say the attempt was worth it, as it was the first time that Chinese enterprises have expressed interest in the nuclear project of a developed country. At the same time, it was also an ideal opportunity for Chinese enterprises to gain the valuable international partnership experiences that they previously did not have.
"If you can be at the top table in the UK, that's a great selling point around the world," a person close to the UK project was quoted by the Financial Times as saying.
The Torness power station near Edinburgh, Scotland. Reactors at the nuclear power station have been shut down after huge numbers of jellyfish were reportedly found in the sea water entering the plant. [David Moir / Agencies]
Building footprints
The home market has long been the focus of Chinese nuclear enterprises as China currently has the world's largest number of reactors under construction. A relative newcomer in the nuclear industry, China has so far built overseas reactors only in Pakistan.
But the situation started to change in 2005 when the National Development and Reform Commission, the country's top economic planner, mooted the idea of internationalizing China's nuclear industry.
Since then Chinese nuclear enterprises have begun to expand their global footprints with ambitions that are likely to change the pattern of the global nuclear energy development.
Take the CGNPC for example. The State-run nuclear enterprise established its international development department in 2006 and started to look for business opportunities in Southeast Asia, Eastern Europe and Africa.