Lenovo plans to build on India top spot
Updated: 2012-08-06 10:18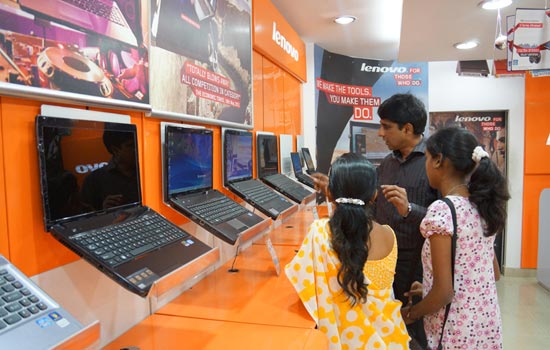 Lenovo-exclusive store owner S. Habeeb (center) showing his customers Lenovo laptop products in his Bangalore store. Two months ago, Lonovo introduced its tablet PC to the Indian market. [Photo/China Daily]
PC maker given a boost by sales at smaller stores that are exclusive
Lenovo Group Ltd, the world's second largest PC maker, will continue to expand in the Indian market by opening more than 300 new shops next year. It plans to maintain its leading market position in China's biggest neighboring country, which it earned in the first quarter of this year, one of Lenovo's executives told China Daily.
Amar Babu, managing director of Lenovo India, has been working in India's IT industry for more than 23 years.
As a veteran, he worked for many multinational companies before he was recruited by Lenovo.
When Babu first started his career with Lenovo three years ago, the Chinese company's market share was only about 4.8 percent in the world's second most populous country, behind other international brands such as Hewlett-Packard and Dell.Lenovo is now the largest PC player in India with an overall market share of 15.8 percent, according to the US-based IT research company IDC.
"The biggest difference in the sales channel between the Chinese PC market and the Indian PC market is retailers. Unlike the Chinese market, stores in India are multi-brand and quite small," he explained.
After much research of the market, Babu and his Chinese headquarters decided to adapt Lenovo's experience in the Chinese market to build a sales system in India.
"We made an unusual decision in the India market, which was to open exclusive stores instead of selling our products in multi-brand stores," Babu said.
He explained that because a while ago Lenovo's brand and name weren't familiar to India consumers, in order to boost sales, the company needed to build up its reputation first.
"We only had about 150 exclusive stores back in 2009 but now we have more than 1,000 stores in the market. All of them are exclusive stores," Babu said.
"We almost completely copied our Chinese business model in the Indian market, although the sales channels in lower-tier cities are not as strong as in China," said Yang Yuanqing, president and chief executive officer of Lenovo.