Chinese firms make inroads in Brazil
Updated: 2012-07-27 09:27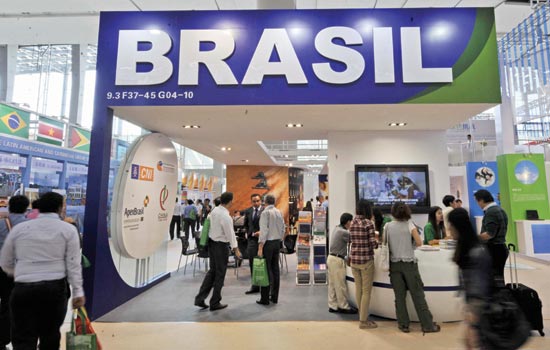 A trade booth representing Brazilian businesses at the 110th Canton Fair in October. In 2010, $17 billion in Chinese investment flowed into Brazil, making China the country's largest foreign investor. [Photo/Agencies]
Economic partners
Brazil, the most distant country from China among the BRICS - Brazil, Russia, India, China and South Africa, has emerged as the closest partner to China economically.
China has been Brazil's largest trade partner since 2009, a position previously held by the US, as a result of massive exports in the energy and agricultural goods sectors.
China's investment in Brazil was less than $300 million in 2009, but increased to $17 billion in 2010, making it the largest foreign investor in Brazil.
And because the two economies are complementary, bilateral trade continues to see double-digit growth, said Clodoaldo Hugueney, Brazil's ambassador to China.
During Brazilian President Dilma Rousseff's visit to China last year, she said that Brazil is seeking to diversify trade and investment ties beyond raw materials to include more value-added goods.
Marcos Almeida, a partner at Ernst & Young Terco, said that foreign direct investment in energy and mining will continue to rise because the Brazilian government is increasingly sensitive to the purchase of agricultural land by foreign investors in general, not only Chinese.
According to data from Brazil's Ministry of Development, Industry and Foreign Trade, 44 percent of Brazil's exports in 2010 were raw materials including iron ore, coffee beans and soybeans.
The deal between China Petrochemical Corporation, known as Sinopec Group, and oil company Repsol SA was the biggest FDI deal in Brazil in 2010.
The Chinese company bought 40 percent of the Spanish oil giant Repsol's Brazilian business for $7.1 billion. Sinopec has also been undertaking a natural gas project named Gasene in Brazil since 2004.
Iron ore is another big investment target for Chinese companies. Vale SA, the Rio de Janeiro-based miner, is the world's biggest producer of iron ore and one of Brazil's largest companies.
In 2011, Brazil's iron ore represented about 20.8 percent of China's total imported iron ore, dropping about 4 percentage points from 24.84 percent in 2007.
The surge in raw material prices also led to the diversification of bilateral trade. In 2011, when China spent $25.7 billion on 143 million tons of iron ore, the price per ton was about 1.8 times more than 2007.
In the first quarter of 2011, China accounted for about 29.7 percent of Vale's revenues - more than half of the company's revenues in Asia. In 2004, Vale signed a contract with China's Sinosteel Corp to supply 600,000 tons of iron ore pellets every year from 2005 to 2011 at a price of $32.76 per ton.