Survey: Passing grade for eco-awareness
Updated: 2013-12-23 07:44
Michelin finds improvement in driver habits, maintenance
A recent survey by French tire maker Michelin found that seven out of 10 drivers surveyed in eight major cities have an adequate performance in the environmental operation of their cars.
It found young drivers score better, but they tend to neglect both safety and environmental protection after owning a car more than three years.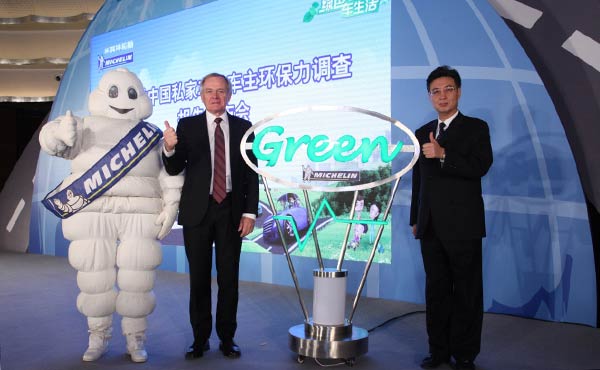 Philippe Verneuil, president of Michelin China, and Yan Jianlai, deputy secretary-general of the Society of Automotive Engineers, released the survey last week. [Photos Provided to China Daily]
Michelin organized the survey on what it calls "environmenality" and developed evaluation methods in partnership with the Society of Automotive Engineers of China.
The 45-day survey of 1,000 drivers was conducted at shops in the TyrePlus Auto Service Network using face-to-face interviews and field checks of auto conditions in Beijing, Shanghai, Guangzhou, Dalian, Chengdu, Qingdao, Wuhan and Xiamen.
Each driver's level of environmental performance was rated based on maintenance, driving habits and the environmental performance of their car.
Male respondents, who accounted for 83.6 percent of the total number surveyed, averaged slightly better scores than females .
Those under age 40 performed better than older drivers in overall environmentality, especially in maintenance habits.
The survey found that the level of environmentality was high among drivers in first three years of car ownership, but they then tend to enter a "bored period of negligence" that means less auto care and poorer driving habits.

Yet they then change to drive in a safer and more eco-friendly way after the "bored period", according to the survey.
Technological adviser to the study Yan Jianlai, deputy secretary-general of SAE China, said that "while we found certain potential risks and inadequacies, that information brings a high reference value to the auto industry even to the whole society".
"But through face-to-face checks and diagnosis, the effort helped drivers improve their habits," said Yan.
The survey also found that 80 percent of drivers interviewed replace their engine oil on schedule, but only 25 percent pay attention to the tire pressure, dynamic balance, oil passages and thermostat.
The Michelin research found that more than 60 percent of the drivers going to unfamiliar locations planned their route and more than 50 percent shut off the engine when parking more than 10 minutes.
It also found that more drivers recognize the benefits of using environmentally friendly components and accessories. More than a third use full-synthetic engine oil.
Michelin made a survey of the environmental behavior of Chinese car owners last year that found drivers had a low level of recognition for "green" tires such as its low-rolling resistance tires.
But this year's survey found 56.6 percent of cars in medium and high-end markets are equipped with green tires, and the number in first-tier cities is still higher.
Some 60 percent of cars less than three years old made at joint ventures in China had original green tires while the ratio for domestic brands was only 30 percent.
But when the time came for replacements, the ratio of all car owners choosing green tires increased to about 50 percent.
Philippe Verneuil, president of Michelin China, said the iconic tire company is "thrilled to see many drivers joined the survey with great enthusiasm this time, demonstrating the strong support among Chinese consumers for environmental protection".
lifangfang@chinadaily.com.cn