Geely announces vehicle financing venture with BNP Paribas
Updated: 2013-12-18 07:01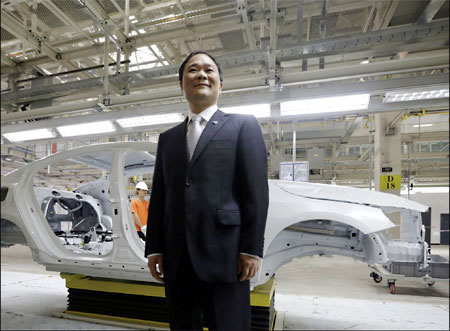 Chairman of Zhejiang Geely Holding Group, Li Shufu poses for a photo at an assembly line of the new Volvo automobile manufacturing plant in Chengdu, Sichuan province, on June 5. [Photo / Agencies]
China's privately owned Geely Automobile Holdings Ltd said on Tuesday that it has entered into an agreement with the personal finance subsidiary of France's biggest lender, BNP Paribas SA, to form an auto financing venture, providing services to Chinese car buyers.
According to a joint statement filed with the Hong Kong Stock Exchange, registered capital for the venture will reach 900 million yuan ($148 million), of which 80 percent is coming from Geely Automobile for an equal stake, with BNP Paribas Personal Finance providing and holding the balance.
The deal is still pending the approval from relevant Chinese authorities, including the China Banking Regulatory Commission.
Geely Automobile's shares closed on Tuesday at HK$3.82 (49 US cents) each, rising 1.29 percent on the Hong Kong exchange.
Geely said the new company will provide auto financing products and services to the China market, including wholesale financing solutions for auto dealers in purchasing cars and operating facilities, and retail financing for customers.
Li Donghui, vice-president and CFO of Zhejiang Geely Holding Group, which purchased Volvo Cars in 2010, and executive director of Geely Automobile, said that Geely is "thrilled to be able to offer safe, professional and convenient auto financing solutions to our customers", as China's automotive market continues to grow at a rapid clip and customers increasingly seek new, innovative ways to finance their auto purchases.
"These financing solutions will also enable us to help our dealers improve their operating efficiency and maximize their revenue potential," Li said.
"Combining Geely Automobile's access to customers and dealers with BNP Paribas Personal Finance's experience and expertise will help stimulate further sales growth," he added.
Statistics show that in November, Geely's total sales jumped 11 percent from a year earlier to 57,000 vehicles, making the Hangzhou-based company the 10th largest Chinese automaker by sales.
In the first 11 months, Geely sold 488,700 vehicles, up 15 percent year-on-year, and accounting for 87 percent of its annual target of 560,000 units for 2013. And while China's automotive industry has experienced a downtown in overseas markets this year, Geely saw its exports surge in November by 51 percent over last year.
With the company offering a range of personal financing services in about 20 countries and regions, BNP Paribas Personal Finance CEO Thierry Laborde said participation in China's auto financing sector "represents a big step in our commitment to the financial market in China".
This partnership is another milestone in the holding group's development plan in Asia-Pacific and in China in particular, following an announcement in July to enter a 50-50 equity joint venture with Bank of Beijing in the insurance sector.
According to the People's Bank of China, by the end of 2012, 16 auto financing companies had been established in China. Also that year, the automobile financing sector grew by 30 percent year-on-year to 392 billion yuan in the world's largest vehicle market.
The overall auto financing sector is expected to reach 670 billion yuan by 2015, of which auto financing companies will take 24 percent, equaling 160 billion yuan.
Analysts also said that in the next decade, the penetration rate of auto financing should rise from 16 percent in 2012 to 30 percent or higher, as the Chinese government further liberalizes the personal credit system and more players join the sector with new financing companies.