Rising satisfaction with local brands
Updated: 2013-12-16 07:47
International gap narrows with new car owners, says 2013 survey
When it comes to the appeal of new vehicles, Chinese brands have narrowed the gap with international competitors to the slimmest margin since JD Power Asia Pacific began its study of consumer perceptions in 2003.
Now in its 11th year, the study examines how gratifying a new vehicle is to own and drive based on owner evaluations during the first two to six months of ownership.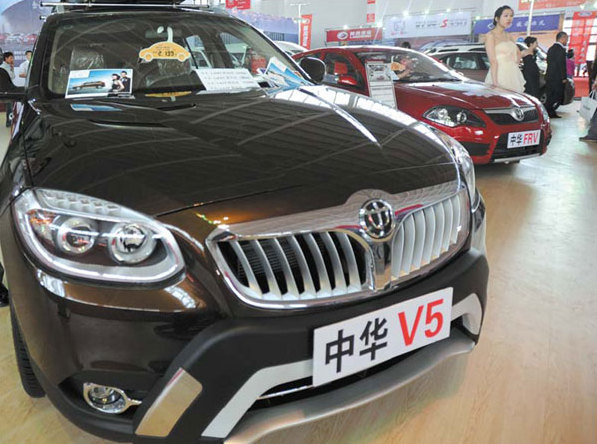 Brilliance Auto's Zhonghua brand ranked above the industry average among new owners. [Provided to China Daily]
The study examines 82 attributes across 10 vehicle performance categories.
The overall score among Chinese domestic brands averages 772 points on a 1,000-point scale, compared with 816 among international brands.
Collectively, Korean brands achieved the highest average score by country of origin, followed by European, US and Japanese brands.
Chinese brands average 32 points below the industry average, an improvement from 2012 when they fell 41 points below.
More options
The overall score for all cars in the study averaged 804 points, a decrease of 18 from 2012.
The significant drop is attributed to consumers in China becoming more discerning, particularly because they have an ever-increasing range of new vehicles to choose from.
"With more than 500 passenger vehicle models on the market, it has become more difficult to woo Chinese consumers," said Mei Songlin, vice-president and managing director of JD Power China.
"Our data shows that new vehicle shoppers consider 2.62 brands on average before making their purchase decision, compared with 2.48 in 2012.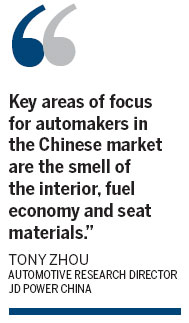 "Such comparisons have resulted in customers becoming more critical when rating their experience with their vehicle."
Significant year-on-year price declines have also negatively impacted owner satisfaction with their vehicles, according to the 2013 study.
"If an owner sees the price of their newly purchased vehicle declining dramatically, their appreciation of the vehicle's appeal is negatively affected," said Mei.
"Of the 12 segments included in the study, nine have experienced a decline in vehicle prices during the nine-month study period."
Customer loyalty
The study finds that new vehicle performance has a strong impact on customer loyalty and advocacy.
The more satisfied owners are with the performance of their vehicle, the more likely they are to recommend it to others and repurchase from the same brand in the future.
Among owners whose vehicle achieved a score of 861 or higher, 31 percent say they "definitely will" repurchase a vehicle from the same manufacturer again, and 54 percent say they "definitely will" recommend their model to family and friends, according to the JD Power survey.
In comparison, repurchase and recommendation intentions drop to 6 percent and 15 percent respectively among owners whose vehicles had a score lower than 749.
"That's why that in recent years, automakers pay so much attention to new vehicle appeal when they develop new models," said Mei.
"And also, the new vehicle performance is proportionate to the price of the car, which is also a important index for automakers," he added.
"Key areas of focus for automakers in the Chinese market are the smell of the interior, fuel economy and seat materials," said Tony Zhou, automotive research director at JD Power China.
"In particular, improving the smell of interior may improve customer satisfaction as it is an area that receives low ratings from vehicle owners."
Luxury brands had the six highest-ranked positions among the 65 brands examined in the study, led by Land Rover and followed by Audi, Mercedes-Benz, Volvo and Cadillac.
Two Chinese domestic brands, Luxgen and Zhonghua, ranked above the industry average.
"It's a breakthrough for domestic brands this year as they rise onto the list for the first time," said Mei.
"It indicates that China's domestic players started to realize the importance of new vehicle performance and put heavy efforts into it."
The 2013 China Automotive Performance, Execution and Layout Study is based on evaluations from 20,926 owners who purchased a new passenger vehicle between October 2012 and June 2013.
lifangfang@chinadaily.com.cn
(China Daily 12/16/2013 page19)